Printable version
2016
Lisboa, Portugal
Twenty-fifth meeting, 7-10 June, 2016
The PAGE 2016 meeting will be hosted by the University of Lisbon and will be held at the University of Lisbon, Portugal.

Our sponsors: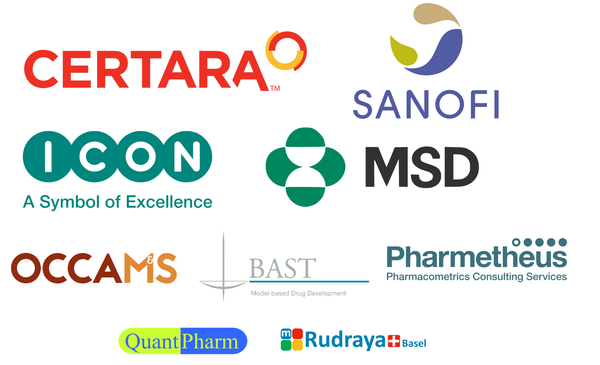 Conference location
PAGE meetings take place in an informal atmosphere with vivid scientific discussion. The PAGE 2016 meeting will be held at the Aula Magna of the University of Lisbon Rectory (Alameda da Universidade, 1649-004 Lisboa; Google map link). The meeting will start with a welcome reception on Tuesday evening 7 June. The scientific programme will start on Wednesday morning 8 June and will end at noon on Friday 10 June. Participants are encouraged to attend all conference days and present their work in the form of an oral presentation or poster.
Abstracts and Apps
The program and abstracts can be downloaded as a single document (pdf) and experimental e-reader files in .ePub and .mobi format. Note that no printed abstracts are available at the conference so print them at home or use the special Apps that have been developed for iPhone and Android to view all abstracts off-line on your portable device.
Programme items:
The Lewis Sheiner Student Session
The annual Lewis Sheiner Student Session was inaugurated, both to honour the memory of Lewis Sheiner and to highlight his lifetime passion for student education. Students who wish to be considered for this session should submit an extended abstract no later than 29 February 2016.

The abstract must be structured with the following subheadings: Objectives / Methods / Results / Conclusion / References.
There must be at least 6,000 but not more than 7,000 characters (including spaces) in the abstract itself, i.e. excluding Title / Authors/ Affiliation and References.
The submitted work must have been performed either as part of an MSc or PhD programme and/or will ultimately form part of a PhD thesis.
Each year a rotating committee of three members, representative of the PAGE community, will judge who should receive the honour of presenting in the Lewis Sheiner Student Session.
If selected, the student will automatically receive a 300 euro travel grant. A permanent list of students, with links to their presentation, will be maintained on the web site.

The Stuart Beal Methodology Session
As a tribute to Stuart Beal, the organising committee has instituted the Stuart Beal Methodology Session. The organising committee will choose presenters from the submitted abstracts.
Tutorial on estimation methods in population modelling

A series of tutorials on estimation methods will be arranged at PAGE over the upcoming years. This first year will deal with "Expectation-maximization (EM) methods" and will be given by Dr Robert Bauer from Icon Development Solutions.

Special session on Immune response

This session will be devoted to immune response to drug treatment (regarding both intended and unintended effects). Professor Nigel Klein from the University College London will give an introductory presentation with a biological perspective on immune response. Further presenters will be selected by the organising committee from the submitted abstracts.

Special session on Growth modelling

In this session Dr Shasha Jumbe introduces the Gates' Healthy Birth, Growth & Development knowledge integration project, followed by a talk on the auxology methodology used in this specific project by Prof. Louise Ryan. Further presenters will be selected by the organising committee from the submitted abstracts.
Registration
Registration is now open! Registration is only possible at the PAGE website.
If you have previously registered at the PAGE website, your personal details (address etc.) are still available.
If this is the first time you will attend PAGE, register first at the PAGE website before enrolling for the meeting.
Please keep our database up to date by editing your existing profile if required!
If you've forgotten your password, a reminder can be requested automatically from the website by e-mail.
If you've forgotten your password and changed your e-mail address then please contact Rik Schoemaker (rs@page-meeting.org).
Updates of personal details in the website are confirmed automatically by email. Note that if you do not receive a confirmation, you should check that your e-mail address is correctly entered in the designated field.
Registration fees and payment
Registration fees are:

625 € for participants from industry and commercial enterprises
425 € for academics (including post-doc students), non-profit participants, unemployed or retired professionals, and government employees
125 € for full time students in an MSc or PhD programme at the time of the PAGE meeting (and not otherwise employed) who do not submit and present a poster or oral communication abstract at PAGE 2016
25 € for full time students in an MSc or PhD programme at the time of the PAGE meeting (and not otherwise employed) who do submit and present a poster or oral communication abstract at PAGE 2016

Fees include coffee, tea and lunch on all days, the welcome reception on 7 June and the social event on 9 June.
Accompanying persons can attend the welcome reception and the social event for a fee of 125 €
Participant places are limited and allocated on a first come, first serve basis.
Registration fees must be paid at the PAGE website by credit card only (Visa, Maestro, MasterCard and American Express)

within 14 days

after registering at the PAGE website. Visa payments require Verified-by-Visa to be activated, and MasterCard requires SecureCode for your and our own security. Failure to meet this deadline will automatically place your registration on the waiting list.
Students wishing to qualify for the student registration fee will need upload, at the time of registration, a scanned copy of a signed letter of support from their supervisor indicating that they will be full time students in an MSc or PhD programme at the time of the PAGE meeting (and not otherwise employed), and a scan of their current student card. If this information (and an abstract if applicable) is not available at the time of the abstract deadline (29 February), non-reduced fees will be charged.
Cancellation policy
No refunds will be given once the registration fee has been paid, not even in the extremely unlikely event that the meeting is cancelled due to force majeure. Substitution of delegates will be accepted at any time.
PAGE Student Sponsorship
A PAGE Student Sponsorship to support travel and accommodation expenses (kindly supported by Certara and BAST and Occams), is available to a very restricted number of students unable to obtain any other financial support. This will be judged on a case-by-case basis by a selection committee. Please see here to download a form with criteria and details on how to apply.
Abstract submission
Deadline for Lewis Sheiner Student Session abstracts: 29 FEBRUARY 2016
Deadline for regular abstracts: 29 FEBRUARY 2016
In contrast to previous years, the abstract submission deadline is the same for all abstracts: Lewis Sheiner Student Session abstracts, oral session abstracts, and poster abstracts and there will be no option for late submissions. The reason is that the PAGE organising committee intends to improve the quality of all abstracts, and that means that sufficient time is required for judging the abstracts. In particular, abstracts without results will be rejected. Statements such as "…will be shown…", or "…will be available at the time of the conference…" are not acceptable.
Please follow these instructions carefully regarding format and length of the abstracts or download them in either Word/RTF or Adobe/PDF format. Abstracts that do not comply with these guidelines will not be accepted.
Each participant is only allowed to submit one poster abstract.
Do not submit separate oral and poster abstracts: if your request for an oral presentation is not granted, you will be contacted to switch your abstract from an oral to a poster category.
Submission of abstracts is only possible online through the PAGE website. Log in, click on 'Register/submit abstract' and click the link on the bottom of your personal info page.
To facilitate the review of abstracts and to help structure the poster sessions, please select an abstract category when you submit your abstract.
The abstract must be structured with the following headings: Objectives / Methods / Results / Conclusion / References.
There is a strict limit of 1,000 to 2,500 characters (including spaces) for the abstract itself (i.e. excluding Title/ Authors/ Affiliation and References).
When you click "Submit" you will immediately receive an email with your abstract attached. This e-mail will also be sent to the committee responsible for peer review in the selected category. Therefore, only click "Submit" when you have finished editing!
Abstracts will remain invisible until release of the final programme (anticipated date: between 5 and 15 April).
Posters
The poster boards will accommodate an A0-size portrait poster (118.9 cm high and 84.1 cm wide/46.8 by 33.1 inches). Material for mounting your poster to the boards will be available on-site.
We have found a local supplier willing to print PAGE posters and the procedure is as follows:
Prepare your poster as a pdf for printing on A0 PORTRAIT format (118.9 cm high and 84.1 cm wide/46.8 by 33.1 inches).
Take a screenshot, or make a photograph or save as a small jpeg file so there is an image of your poster that can be used to check against the delivered full poster file.
Send the poster file (pdf) and the picture to geral@theoriginaldesign.pt and clearly identify your poster using "PAGE2016 poster: Name, Email, PosterNumber". The PosterNumber can be obtained from the list of abstracts and is given in front of the name of the presenting author.
If the poster bounces because it is too large, resend the email without the poster file but with the picture file, and use WeTransfer at https://www.wetransfer.com/ to send the large poster file.
The price is 20 euro per poster. Specify whether you want your poster printed on Vinyl matte or Vinyl glossy and if you want it packed in a plastic tube (10 euro extra).
Wire the money, ensuring you pay all associated bank costs (do not use 'share costs') to:
Desafios e Trajetorias
IBAN PT50 0079 0000 6637 1602 1011 7
BIC/SWIFT BPNPPTPL
and clearly mark your wire transfer with "PAGE2016 poster: Name, Email, PosterNumber".
Send the poster file and wire the money before Thursday 2 June, 17:00 (5PM) local Portugal time.
You will receive an email confirmation when the poster is printed.
If you need your poster printed after 2 June, visit the shop at The Original Design, Avenida do Brasil N 24A, Alvalade, Lisboa from 09:00 (9AM) to 19:00 (7PM) local Portugal time, from Monday to Friday.
Posters will be available for pickup at registration at the conference location (Aula Magna): you will need to mount them yourself.
Software demonstrations
Software companies, Academic Software Application Developers and Contract Research Organisations are welcome to present their products and services during PAGE. Please contact the conference secretariat for further details at elizabete.oliveira@tacongress.com.
Satellite meetings
Several events will be held before and after the PAGE meeting. If you are interested in organising such a satellite meeting, contact Top Atlântico DMC directly at elizabete.oliveira@tacongress.com. Please note that PAGE itself does not get involved in organising satellite workshops or booking venues, etc, and satellite meetings cannot be booked through the PAGE or local organisers web-site.
Satellite Symposia
PKPD modelling of QT interval - Regulatory perspective and impact of ongoing revision of ICH S7B and E14 guidelines Date: 07 June 2016, from 13:30 – 17:00. Venue: Faculty of Pharmacy, University of Lisbon. Regulatory agencies, academic researchers and pharmaceutical companies appear to have recognised the drawbacks of the existing approach for the evaluation of pro-arrhythmic properties based on a predominant focus on the hERG channel. As a result, at the conference of the Cardiac Safety Research Consortium (CSRC)-Health and Environmental Sciences Institute (HESI)-Food and Drug Administration (FDA) held in July 2013, a revision of ICH S7B and possible elimination of ICH-E14 was proposed. Of note is the shift from evaluating QT prolongation to evaluating pro-arrhythmic activity using a comprehensive in vitro pro-arrhythmia assay (CiPA). This satellite symposium will be an opportunity to discuss the role of PKPD modelling and clinical trial simulations to characterise pro-arrhythmic risk and QT interval prolongation. Details of the final programme will be released soon. Participation will be free of charge, but registration is required due to limited venue capacity. Registration is now open through this link and the final program can be downloaded here. For further information contact: Salvatore D'Agate (s.d'agate@ucl.ac.uk).


Do you have an interest in ensuring children and young people survive and thrive to their full potential; - to empower the poorest, transform lives (especially women and girls); - to combat diseases that particularly affect the poorest? Are you inspired to take action to impact and change the world using the pharmacometric approach?
Guided by the belief that all lives have equal value, the Bill & Melinda Gates Foundation pride ourselves in being 'impatient optimists' whose purpose is to address inequity. Our vision is to ensure a world where every person has the opportunity to live a healthy, productive life. Our currency through data, discovery and decisions is data science and technology.
Come learn how we are applying the pharmacometric approach to tough Global Health problems for immediate and durable impact. See who is working with the Bill & Melinda Gates Foundation, what clear progress and impact is being made on pressing problems, and directly engage with the impressive datasets and questions we are working on before, during and after this fun-filled and engaging workshop and hackathon. Plan to arrive by Sunday evening in Lisbon for PAGE2016. We will meet on Monday June 6 from 10am through dinner, and Tuesday the 7th from 10-5pm. Attendance to the workshop and hackathon is free for all registrants, but we are currently at full capacity. Prizes to be won by active participants and fun good will and learning promised for all.

You are invited to join us for the Healthy Birth, Growth and Development Knowledge Integration: Lisbon Data Science Community Meet-up sponsored by the Bill and Melinda Gates Foundation this Sunday 5 June at the Torreão Nascente from 1800-2100 hours (6-9pm)
Where: Torreão Nascente, Praça do Comércio – Ala Nascente, 1100-148 Lisbon, Portugal
Who: the Lisbon data science community and PAGE 2016 attendees
If you are able to join us for this free networking event, please invite friends and register here to indicate that you're coming! Heavy appetizers and beverages will be provided.
ACCOMMODATION
Top Atlântico DMC, the Local PCO - Booking Agency, has secured a variety of hotels for the PAGE meeting that range from luxurious to more standard accommodations at special rates. An overview of the hotel accommodation options, and the web-page for booking hotel rooms can be found here.
About Portugal
Portugal is situated at the south-west point of Europe and also includes the Madeira and Azores archipelagos in the Atlantic Ocean. Just a few hours from any of the other European capitals and with its mild climate and splendid beaches bathed by the Atlantic Ocean, Portugal attracts visitors from all over the world.
This is a country that has the oldest borders in Europe, with several different landscapes just a short distance away, lots of leisure activities and a unique cultural heritage, where tradition and modernity blend together in perfect harmony. Its superb cuisine, fine wines and hospitable people make this a tourist paradise of the highest quality.
Portugal has something to interest everybody. It is steeped in history as the museums, palaces and castles show. There are plenty of places to shop and lively markets to explore. As for nightlife, there are enough discos, casinos and night-clubs to keep the most dedicated fun lover happy. For the outdoor types, there is every sport they could wish for, endless sun-kissed beaches, and plenty of swimming pools as well as golf courses.
The history of Portugal is unique in the European context. Pushed against the Atlantic Ocean, fighting for its independence along with other Iberian visigothic kingdoms, after the fall of the Roman Empire and following the conquering of most of the Iberian Peninsula by North African Muslims, Portugal initiated a saga that is considered the opening of Europe to new worlds and built an overseas empire by means of the famous Sea Discoveries led by Infante D. Henrique and his successors.
In order to keep its borders and independence Portugal fought numerous battles against, first the Moors, then its neighbours and later Napoleon himself in the 19th century. The new ideas arising from the French Revolution started a troubled 19th century, ending up in the Republican Revolution in 1910, starting the third Republic in Europe. A dictatorship led by Salazar was the main feature of the 20th century, which ended with the Carnation Revolution in April 1974. Since then, Portugal without its colonies thrived through the entrance into the European Union bringing in its multicontinental background. Financial problems arising from the recent world crisis are now being dealt with through the mechanisms of democracy and economic recovery.
About Lisboa
Lisboa is the capital of Portugal and lies on the north bank of the Tagus Estuary, on the European Atlantic coast. It is the westernmost city in continental Europe. Greater Lisboa has an area of approximately 1,000 km2. The city lies more or less in the centre of the country, approximately 300 km from the Algarve in the south and 400 km from the northern border with Spain.
The origins of Lisbon are shrouded in legend, among its mythical founders are Elisha and Ulysses. Its name derives from Olissapona, a Latin version of the Phoenician "Allis Ubbo" or " delightful little port".
Lisbon was occupied successively by Phoenicians around 1200 BC, followed by the Greeks, Carthaginians, Romans, Visigoths, Moors and finally conquered in 1147 AD by Portugal's first king, Afonso Henriques, with the aid of North European crusaders. The city was made Portugal's capital in 1255, and was the seat of the monarchy until the Republic in 1910.
As Portugal developed into the greatest power in the 15th century onwards, so Lisbon became a very important port, the centre for trade in spices and jewels from the East and gold from Brazil, and capital of the Portuguese Empire. The 1755 infamous earthquake, fire and tsunami destroyed most of the city, especially downtown by the Tagus waterfront. Marquis de Pombal was instrumental in rebuilding the city and initiating reforms that were the basis of modern Portugal.
Today, Lisbon is a lively, international city with a population of one and a half million, offering a fascinating combination of the old and the new, with an unmistakable character and a beauty all of its own. Lisboa offers a wide variety of options to the visitor, including beaches, countryside, mountains and areas of historical interest only a few kilometres away from the city centre.
For additional tourist information, please visit this link.
Getting to Lisbon
Lisbon is very easy to get to. It's just a short flight away from most European locations and also easily accessed by road, sea and rail.
Lisboa International Airport, 7 km from the city center, has daily flights to and from the major cities in Europe and the world. The Portuguese airline TAP - Air Portugal, as well as all major international Airlines and low cost companies, fly to and from Lisboa.
Lisbon Airport has direct bus and underground connections to the city centre. There are several inexpensive professional transport services available. Of course taxis are a fast way to reach the city centre and taxis are not expensive in Lisbon. They are lined up outside the terminals.
The Campus where the conference is located, is well served by several bus lines and one Metro Station (Cidade Universitária). There are several hotels within walking distance.
Climate - Weather
Due to the influence of the Atlantic Ocean, Lisboa has a pleasant climate throughout the year. The agreeable temperatures in the summer months are an open invitation for a walk by the river, or to spend an afternoon in one of the many street cafés to be found all over the city. Although the temperatures may fall somewhat in the autumn and winter months, sunshine is almost always a constant feature.
Local Time: Lisbon's time is in the WET - Western European Time zone (GMT/UTC GMT/UTC +1 in summer)
Useful telephone numbers & Emergencies
112 is the European emergency phone number, available everywhere in the EU, free of charge.
It is possible to call 112 from fixed and mobile phones to contact any emergency service: an ambulance, the fire brigade or the police.
When a person dials 112, a specially trained operator will answer the call.
Conference secretariat
Top Atlântico DMC has been appointed official partner and housing agency for the Congress. For matters related to hotel reservation, tourist information, organising satellite events, and software demonstrations please contact:
Top Atlântico DMC
Congress Department
Att: Elizabete Oliveira
Av. Dom João II, Lote 1.16.1
1990-083 Lisboa, Portugal
Phone: (+351) 218 646 900
e-mail: elizabete.oliveira@tacongress.com
For matters related to payment of registration fees:
Meeting Makers Ltd
Tel: +44 (0) 141 945 6880
Fax: +44 (0) 141 945 6899
page2016@meetingmakers.co.uk
For matters related to abstracts: