Printable version
2004
Uppsala, Sweden
Thirteenth meeting, 17-18 June, 2004
Dedicated to the memory of Lewis B. Sheiner,
1940-2004.
The PAGE2004 meeting was held at the Grand Auditorium of the University hall of Uppsala and was hosted by Uppsala University and Exprimo Consulting LLP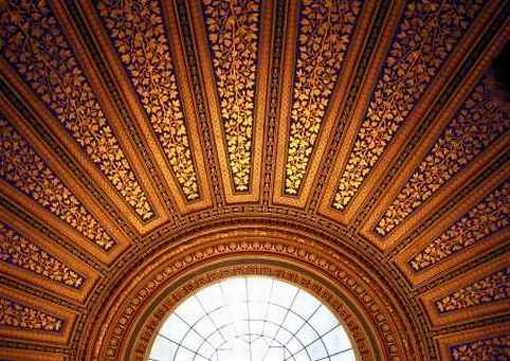 Ceiling of the Conference Room at the University Hall of Uppsala (Photo: Brigitte Tranchand)
PAGE meetings take place in an informal atmosphere with vivid scientific discussion. Participants are encouraged to attend both conference days and present their work in the form of an oral presentation or poster. Participants are explicitly encouraged to contribute work on clinical applications. The meeting will start around 8AM on Thursday with registration and coffee and will conclude around 5PM on Friday.
PROGRAM and ABSTRACTS
The program and individual abstracts can be viewed using the links on the left, or the complete set can be dowloaded in pdf format by clicking program, oral abstracts or poster abstracts.
POSTER BOARDS
The size of the poster boards is 140 cm high and 100 cm wide (approx. 56 inches high and 40 inches wide).
UPPSALA
The city of Uppsala is Sweden's fourth largest municipality. Perhaps best known for its 15th century university, the city also offers visitors beautiful surroundings, a lively cultural scene and a rapidly expanding business sector. Uppsala is located 70 kilometres north of Stockholm in the province of Uppland, and is located only 35 km from Stockholm-Arlanda International airport with excellent communications by train and bus. The city's resident population is 180.000. On June 17 2004 the sun will rise at 02:45 and will set at 21:35! For a preview check out this website. A map of Uppsala city with hotel addresses and details of the conference locations, as well as details of transportation options from Arlanda and Skavsta airports, can be found on the Academic Conferences confirmation web site.
REGISTRATION
Thursday June 17 at 8.00-8.45, in the foyer of the conference venue. Please try to be on time, to avoid last minute queues.
CONFERENCE VENUE
The conference will be held in the Grand Auditorium of the Main University Building ("Universitetshuset" in Swedish) located in the University Park, on the corner of Övre Slottsgatan and Sankt Olofsgatan. The conference hall is just a few minutes walking distance from most of the hotels. Please find the location and a map on the Academic Conferences confirmation web site.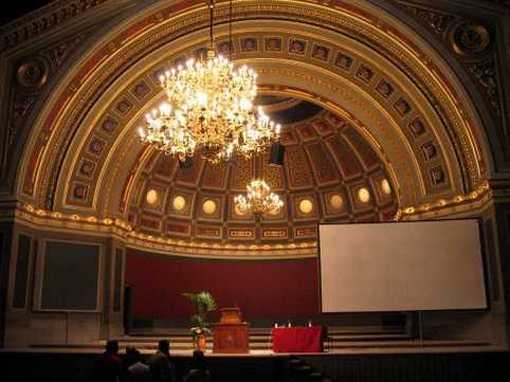 Conference Room Stage (Photo: Brigitte Tranchand)
CANCELLATION
Cancellation of participation must be sent in writing to the secretariat. No refunds can be made. No-show at the hotel for the first night will be charged if it hasn't previously been cancelled with the secretariat. The conference participation is transferable to another person. If you wish to transfer your conference registration to another person, please contact the conference secretariat.
SECRETARIAT
Academic Conferences
P.O. Box 7059
SE-750 07 UPPSALA
Sweden
Phone: +46 18 67 10 34 or +46 18 67 10 03
Fax: +46 18 67 35 30
E-mail:

LOCAL CURRENCY
The Swedish monetary unit is the Swedish krona (SEK), divided into 100 öre. In mid January 2004; USD 1=SEK 7, Euro 1=SEK 9, GBP 1=SEK 13. Major credit cards are accepted in most shops and restaurants. Visit for instance oanda for current exchange rates.
REGISTRATION and FEES
There will be no registration on site on the day of the meeting. All participants must register and pay the required fees in advance.
Please note: It is necessary to register in two places:

1) Here at the PAGE-web site by clicking the My Profile button and
2) At the conference organizer Academic Conferences, to arrange for accommodation and payment. Registration is not complete before you have registered in both places!

For full details: see below.
If you wish to attend, first register at this web-site by clicking on the my profile link on your left, and updating the information. Your personal details (address etc) are still available if you have registered at the PAGE web site before. Please keep our database clean and current, and update your existing profile! If you've forgotten your password, it can be sent to you from the web site by e-mail. If you've forgotten your password AND changed your e-mail address then please contact Rik Schoemaker(

). If you update your information, an automatic e-mail will be sent to you; if you do not receive this mail then please re-check your personal info (especially your e-mail address)! If you have never visited this web-site before, you need to fill in your personal details first and then log in again to register for the meeting.
Fees will be 1100 SEK for academics, 1700 SEK for participants from industry and 200 SEK for students with proof of their academic status (a letter from their supervisor, to be presented at the meeting), if registered by April 24. Registration fees after April 24 will be 1300 SEK for academics, 1900 SEK for participants from industry and 300 SEK for students. Fees include meeting documentation, coffee/tea breaks, lunch on Thursday and Friday and the social event on Thursday evening.
Accompanying persons can participate in the social event and receive a tourist information pack for exploring Uppsala and surroundings on their own, for a fee of 800 SEK (1000 SEK after April 24). Due to EU tax regulation, 25% VAT needs to be added to the accompanying persons fee for participants from a EU country.
The local conference organiser 'Academic Conferences' will handle payment of registration fees and reservation of accommodation. You need to visit their web-site at http://www-conference.slu.se/page to reserve a hotel room and find the details of payment. To take advantage of the lower fee, register and make your payment by April 24. Registration will only be accepted when final payment has been received. You will receive a confirmation of your registration and hotel reservation, which will be sent around May 15. When final payment is received, you will also receive a receipt of payment.
CANCELLATION POLICY
All cancellations must be sent in writing to the meeting secretariat. If cancellation is received by May 15, 2004 at the latest, your payment minus 500 SEK for administration costs, will be refunded. No refunds are possible for cancellations after May 15, and no refunds are possible for students. The conference participation is also transferable to another person. In that case, please contact the meeting secretariat for new delegate information.
ABSTRACT SUBMISSION
Submission of abstracts is only possible online through this web site. Please follow these instructions carefully or download them in either Word/RTF or Adobe/PDF format. Abstracts that do not comply may require re-submission. For submitting an abstract click on my profile, log in and click the link on the bottom of your personal info page.
DEADLINE for ABSTRACTS: 31 MARCH 2004
PHARSIGHT SCHOLARSHIP
The first 10 students who submit an abstract for a poster or oral presentation may apply for a 300 euro sponsorship, made possible by a kind donation from Pharsight, by sending an e-mail (after submitting an abstract) to the local organisers(

). Students that want to qualify for a scholarship should require hotel accommodation for the meeting and should bring proof of their academic status (a letter from their supervisor), to be presented at registration for the meeting. The student should not already be sponsored by industry in order to qualify for a PAGE sponsorship.
SOFTWARE DEMONSTRATION
Software companies, Academic Software Application Developers and Contract Research Organisations are welcome to present their products and services during PAGE. Please contact our secretariat for further details (see below).
INSURANCE and VACCINATIONS
The conference fee does not cover insurance for delegates. The organizers strongly recommend that delegates take out insurance in their own country to cover pre-journey cancellation for personal reasons and all necessary insurance against customary risks, particularly accident, medical expenses and loss of personal belongings, during the visit. No vaccinations are needed in Sweden.
PASSPORTS, VISAS
EU nationals do not require a visa for Sweden. Others are advised to contact the nearest Swedish embassy or consulate or travel agency to find out the passport and visa requirements for entry into Sweden.