Printable version
2003
Verona, Italy
Twelfth Meeting, 12 - 13 June, 2003
The PAGE2003 meeting was held at the Main Auditorium at the CEDD Psychiatry and was hosted and sponsored by GlaxoSmithKline R&D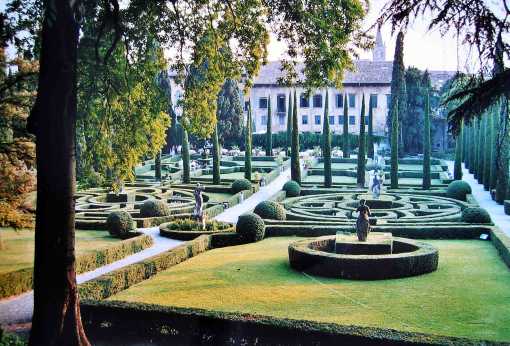 The Giardino Giusti, location of the social event (Photo: Pascal Girard)
PAGE meetings take place in an informal atmosphere with vivid scientific discussion. Participants are encouraged to attend both congress days and present their work in the form of an oral presentation or poster. Participants are explicitly encouraged to contribute work on clinical applications.
The program is now available (see link on your left) and a Word/rtf document with all the abstracts can be downloaded through this link. A printable (rtf) version of this web-page can be dowloaded here.
VERONA
Verona is one of the most beautiful and fascinating cities in Italy, a city of contrasts and historical puzzles. Verona is nestled against the foothills of the Dolomite alps, a scant hour away, and lies embraced within the distinctive doubled bends of the Adige River. Near Lake Garda and in the shadow of Monte Baldo and its welcome summer breezes, Verona enjoys a pleasantly moderate climate and breathes the perfumes of surrounding vineyards from every direction. The Roman ruins, the many great churches, palaces, and ancient fortifications are a testament to the city's prominence throughout long centuries of European history. Do not miss the opportunity to enjoy and learn more about this city (http://www.ideaverona.com/city.php).
REGISTRATION and FEES
Fees will be 120 euro for academics and 180 euro for participants from industry. A restricted number of places (30) is reserved for students with proof of their academic status for the reduced fee of 20 euro. Fees include only coffee/tea breaks, lunch on Thursday and Friday and the social event on Thursday evening. Registration fees must be paid directly to High Performance Travel srl. Details on payment of the registration fee and booking of hotels can be dowloaded in Adobe/PDF or Word/RTF format. Transactions by credit-card/fax are preferred. Registration will only be accepted when the appropriate payment has been received (no later than April 24, 2003). You will receive a receipt for payment from High Performance Travel srl.
Your personal details (address etc) are still available if you have registered at the PAGE web site in 2002. If you've forgotten your password, you may request it by e-mail. If you've forgotten your password AND changed your e-mail address then please contact Rik Schoemaker (

). If you update your information, an automatic e-mail will be sent to you; if you do not receive this mail then please re-check your personal info (especially your e-mail address)!
The number of participants is limited, early registration is therefore recommended. There will be no registration on site on the day of the meeting.
CANCELLATION POLICY
Cancellations of reservation received after May 15 2003: NO REFUND
ACCOMPANYING PERSONS
We've had request for participation of accompanying persons in the social event, and arrangements have been made with the organising travel agency HPT to make this possible. Should you like to bring someone along on Thursday evening, the cost will be 60 euro and we ask that you contact HPT directly hptcongress@hpt.it) to make the arrangements.
SOCIAL EVENT PROGRAMME
The social event will take place at "Palazzo Giusti del Giardino".
The gardens created towards the end of 15th century, were designed as backdrops for the Giusti Palace, and show today the structure given them in 1570 by Agostino Giusti, Knight of the Venetian Republic.
In addition to collections of flowers, roman remains and the huge Goethe cypress, it maintains all 16th century characteristics: fountains, acoustic grottos, bowers, Italian hedges and a small labyrinth, one of the oldest in Europe. The gardens are terraced in order to gradually uncover the view of the city, and the belvedere offers one of the most beautiful panoramas of Verona.
ABSTRACT SUBMISSION
Submission of abstracts is only possible online through this web site. Please follow these instructions or download them in either Word/RTF or Adobe/PDF format. Abstracts deviating from these instructions may need to be resubmitted. For submitting an abstract click on 'my profile', log in and click the link on the bottom of your personal info page. The size of the posters is 90cm width and 200cm height.
FINAL DEADLINE for REGISTRATION: 31 MARCH 2003
NEW DEADLINE FOR ABSTRACTS: 18 APRIL 2003
FINAL DEADLINE for PAYMENT: 24 APRIL 2003
ACCOMMODATION
Hotel accommodation should be booked by participants at their own expense and as early as possible. High Performance Travel srl is responsible for all travel arrangements. Details on payment of hotel reservation can be found by clicking on one of the the links under 'REGISTRATION and FEES'. Transactions by credit-card/fax are preferred. For any additional information on travel arrangement and hotel reservation, you can contact High Performance Travel directly at hptcongress@hpt.it.
SHUTTLE SERVICE
A bus shuttle service wil be organised from the hotels to the site of the PAGE meeting.
PHARSIGHT SCHOLARSHIP
The first 10 students who submit an abstract for a poster or oral presentation may apply for a 300 euro sponsorship, kindly provided by Pharsight Corp., by sending an e-mail (after submitting an abstract) to

. Students should require hotel accommodation for the meeting and should not be sponsored by industry in order to qualify for a sponsorship.
SOFTWARE DEMONSTRATION
Software companies, Academic Software Application Developers and Contract Research Organisations are welcome to present their products and services during PAGE. Please contact our secretariat for further details.
VENUE
GlaxoSmithKline R&D
Via Alessandro Fleming 2/4
37135 Verona
Italy
MEETING SECRETARIAT
Ms. Erica Signoretto


HOW TO REACH VERONA
By car, bus/coach
Verona is easily reached by taking the A4 Motorway SERENISSIMA (Milan/Venice, exit for the city centre: Verona Sud) or by taking the A22 Motorway Brennero-Modena (exit: Verona Nord).

By plane
Verona's international airport CATULLO in Villafranca is situated
approximately 10 Km S-W of the city centre. There is a shuttle bus service to and from the airport every 20 minutes approx. from 6.10 am to 11.30 pm. The airport bus terminal is outside Porta Nuova Railway Station.

By train
The main railway station is VERONA PORTA NUOVA, which is at the crossroads of both the Milan-Venice line and the Brennero-Rome line. There are direct trains and InterCity trains from all the main railway stations in the North of Italy throughout the day.


COMPANION EVENT
The Second Satellite Symposium on Predictive Modelling in Drug Development will be held on 11 June 2003. Registered PAGE participants can attend the meeting free of charge. Participation by invitation only. Please contact Mrs Pam Paul for details and registration.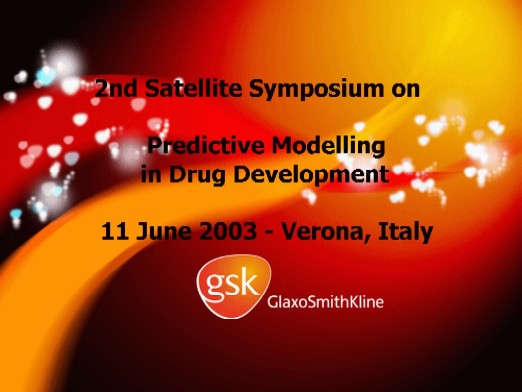 Venue: Main Auditorium at the CEDD Psychiatry, GlaxoSmithKline R&D, Via Fleming 4, Verona, Italy
Participants who have booked a hotel (Hotel Ramada, Hotel Ibis, Hotel Accademia, Hotel Tryp) through HPT and check in before 12.00 pm on 11th June can can wait at the hotel for the shuttle service. Those who are not staying in one of the aforementioned hotels may use the shuttle service departing from PIAZZA BRA (opposite the ARENA - in front of the GRAN GUARDIA). The shuttle service is operated by PASQUALINI (White & Grey Bus) and can be identified by the PAGE sign. The service will depart at h 12.45. A bus shuttle to the hotels and to Piazza Bra will also be available after the satellite symposium. Departure time at 18.00 h.

VERY IMPORTANT:
1. Participants who have checked in at the hotel by 12.00 noon on 11 June: REMEMBER to BRING your PAGE registration BADGE. ENTRANCE TO GSK premises WILL NOT BE ALLOWED without identification.
2. Participants who arrive DIRECTLY TO the symposium will receive the PAGE registration package at arrival.

Final Programme:

13.30 - 13.40 Predictive Modelling in Drug Development
Dr. Oscar Della Pasqua, CPDM, GlaxoSmithKline (UK)

13.40 - 14.40 Keynote Lecture
Flexible Bayesian Analysis and Prediction: Applications in Drug Development
Dr. David Spiegelhalter, MRC, Biostatistics Unit, Cambridge (UK)

14.40 - 15.10 From Lead Optimisation to Candidate Selection
Potency or PK? Use of M&S to Optimise Candidate Selection
Dr. Daren Austin, CPDM, GlaxoSmithKline (UK)

15.10 - 15.30 Coffee break

15.30 - 16.30 From Candidate Selection to Proof-of-Concept
Be Still My Beating Heart! A Population Pharmacodynamic Meta-analysis and Trial Simulation
Mrs. Ann Allen, CPDM, GlaxoSmithKline (UK)

Population Whole Body Physiological PK/PD Modelling: Impact of Variability on Input Parameters of Response
Dr. Roberto Gomeni, CPDM, GlaxoSmithKline (Italy)

16.30 - 17.10 From Clinical Development to Product Line Extension
Adaptive Designs for Simultaneous Estimation of Efficacy and Safety Dose-responses
Dr. Valeri Fedorov, Reasearch Unit, BDS, GlaxoSmithKline (USA)

17.10 - 18.00 Symposium Closure & Reception