Printable version
2011
Athens, Greece
Twentieth meeting, 7-10 June, 2011
The PAGE 2011 meeting was hosted by the University of Athens and was held at the Divani Caravel Hotel.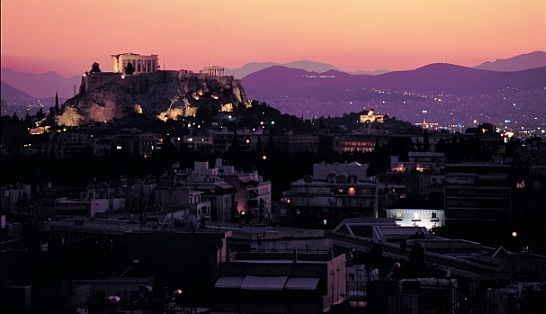 View of the Acropolis from the Divani Caravel Hotel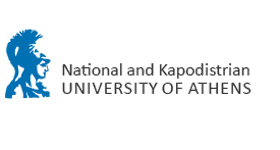 Our sponsors: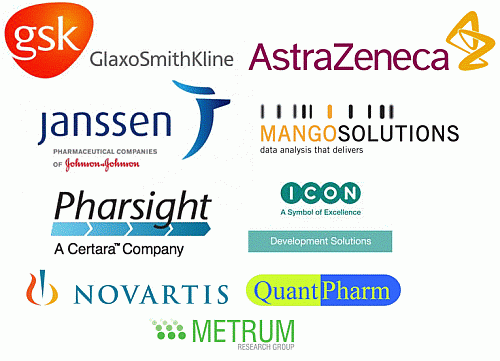 The program plus abstract titles and oral and software abstracts can be downloaded as a single document (pdf or doc) and all poster abstracts can be downloaded as a single document (pdf or doc).
Special Apps have been developed for iPhone and Android to view all abstracts off-line on your portable device!
PAGE meetings take place in an informal atmosphere with vivid scientific discussion. The meeting will start with the Welcome reception on Tuesday evening June 7. The scientific programme will start on Wednesday morning June 8 and will end at noon on Friday June 10. Participants are encouraged to attend all conference days and present their work in the form of an oral presentation or poster.
Preliminary components of the program (subject to change):
The Lewis Sheiner Student Session
The annual Lewis Sheiner Student Session was inaugurated, both to honour the memory of Lewis Sheiner and to highlight his lifetime passion for student education. Students who wish to be considered for this session should submit an extended abstract before the end of 1 March of their intended presentation for the PAGE meeting. A structured abstract is required (Objectives/ Methods/ Results/ Conclusion/ References) with number of characters (including spaces)

not exceeding 7,000 but not less than 6,000

for the abstract itself (i.e. excluding Title/ Authors/ Affiliation and References). The submitted work must have been performed either as part of an MSc or PhD programme and/or will ultimately form part of a PhD thesis. Each year a rotating committee of three members, representative of the PAGE community, will judge who should receive the honour of presenting in the Lewis Sheiner Student Session. If elected, the student will automatically receive a PAGE-sponsored 300 euro travel grant (on top of potential other grants, see below). A permanent list of students, with links to their presentation, will be maintained on the web site.
The Stuart Beal Methodology Session
As a tribute to Stuart Beal, the organising committee has instituted the Stuart Beal Methodology Session. The organising committee will choose presenters from the submitted abstracts.
Tutorial
Nick Holford and Marc Lavielle on time to event methods for mixed effects models
Invited speakers
Malcolm Rowland on "Physiologically based pharmacokinetics: Advancing the clinical dimension".
Leonid Gibiansky on Modelling of drugs with target-mediated disposition.
Registration
Registration is now open and is only possible at the PAGE website. Your personal details (address etc) are still available if you have registered at the PAGE website before. Please keep our database up to date by editing your existing profile if required! If you've forgotten your password, a reminder can be requested automatically from the website by e-mail. If you've forgotten your password and changed your e-mail address then please contact Rik Schoemaker (rs@page-meeting.org). If you update your information, an automatic e-mail will be sent to you; if you do not receive this mail then please re-check your e-mail address. If you have never visited this website before, you need to fill in your personal details first and then log in again to register for the meeting.
Hotel reservation and payment of fees using a secure server is only possible at the AFEA local organisers web-site, through www.afea.gr/page2011. You will be able to log into this web-site using your PAGE login information (username and password) after registering at the PAGE web-site but please allow at least one business day for us to update the AFEA database. Payment of registration and accomodation fees is only possible by credit card (accepted credit cards: American Express, VISA, Master Card) and you need to pay at the AFEA web-site within 14 days of registration at the PAGE web-site or you will be put on the waiting list. Participants will have the chance to book and pay for their accommodation separately from registration the latest until May 9th, 2011. An official confirmation with all services selected and paid, will be sent within 5 days of the submission. Should you not receive this confirmation, please contact the Conference Secretariat at pagemeeting2011@afea.gr.
Registration fees are 500 EUR for participants from industry, 250 EUR for academics and non-profit participants and 50 EUR for students (in an MSc or PhD program). Fees include coffee, tea and lunch on all days (except Friday June 10), the welcome reception on June 7 and admission to the social event on June 9. Accompanying persons can attend the welcome reception and the social event for a fee of 120 EUR. All Places are limited to a number of participants on a first come first serve basis.
Hotel reservation
AFEA offers accommodations in different hotel categories at special rates on a first come first serve basis. An overview of the hotels can be obtained here (pdf for download) and a map of hotel locations can be obtained here (pdf for download). You will be able to select and book your hotel and see prices and room types directly from the organisers web-site that is accessible via the registration link.
We strongly recommend that you reserve a hotel room as early as possible because of an expected limited availability of hotel rooms in Athens due to several other events that take place in parallel to the PAGE2011 meeting.
Cancellation policy
Full settlement of the registration and accommodation fees is needed in order to receive confirmation.
No refunds will be possible for confirmed registrations, not even in the extremely unlikely event of cancellation of the meeting. Most PAGE bills need to be paid in advance so consider this a shared but negligible risk.
Cancellations will be possible for accommodation reservations, if sent in writing to the Congress Secretariat the latest until March 10th, 2011, with a 50% refund of the accommodation fees. After this date no refunds will be possible. Substitutes will be accepted at any time.
Social events
The welcome reception will take place at the Conference venue (Hotel Divani Caravel) in the main meeting hall (OLYMPIA), continued with the Cocktail at the hotel's roof garden by the pool. The social event will take place on Thursday evening (June 9). All places are limited to a number of participants on a first come first serve basis. The registration fee includes the above two social events.
Parallel Social Activities
Several Parallel Social Activities will be held during PAGE meeting. An overview of the Social Activities can be obtained here (pdf for download) and the associated registration form here (Word document for download). For further information on rates, availability and bookings, please contact the Conference Secretariat at pagemeeting2011@afea.gr.
Athens today

Athens is renowned all over the world for its millenary history, for spreading art, culture, science and philosophy throughout, thus being the cradle of modern western civilization. Today, like 3000 years ago, Athens can claim its role of great cultural centre by hosting an increasing number of contemporary artists, researching new aesthetic trends, defending its past and at the same time ambitiously planning its future.
It is a dynamic city, rich in culture and technological innovations. Its eagerness for renovation however, still links it inevitably to its glorious past. The modern architecture is daring, yet it has a strong classical influence, the postindustrial areas are filling up with theatres, art galleries and nightlife.
Athens welcomed the 2004 Olympic Games with avant-garde infrastructures, a new town plan, a new airport, a new underground system and new monuments and museums. Modern Athens is continuously evolving: it is able to recognize the merits of its past and can also look ahead and renew itself, keeping young and lively.
The city presents a unique combination of the ancient history and modern world, and offers an unforgettable Mediterranean experience to all its visitors. The ideal climate, the great hospitality, the rich transportation network, the unique combination between business and pleasure, the fully renovated meeting infrastructure, as well as the great variety of cultural and entertainment options can be a few of the city's advantages.
No matter how long you stay in Athens, the time is never enough to discover the numerous pleasures the city offers. Well known worldwide for its entertaining nightlife, Athens invites you to discover her bars, nightclubs, restaurants and cafes.
Athens has a proud tradition of hosting great medical and scientific events.
Please visit the Athens tourism web site to learn more about Athens (www.athensconventionbureau.gr and www.breathtakingathens.com).
Getting to Athens
The airport is located 33 km southeast of Athens and is easily accessible via Attiki Odos, a six-lane motorway (the Athens City Ring Road). Public transportation to Athens and the Port of Piraeus is provided by express airport bus connections on a 24-hour basis, while a direct Metro line connects the airport with the city centre (Syntagma square) in 27 minutes. The Congress hotel, Divani Caravel, is also connected via the blue line and it is located close to the Evangelismos station. A map of the metro lines can be obtained here (pdf for download). In addition, regular motor coach schedules link Athens with the southeastern European states and the Balkans, while daily ferry services link the port of Patras (2 hours drive from Athens) with Italy. A taxi ride from the airport to the city centre costs between 26-40 Euros. Duration approximately 40 minutes.
Satellite meetings
Several events will be held before and after the PAGE meeting:
Abstract Submission
In order to facilitate review of abstracts and to aid in a structured presentation of posters, a number of categories has been created:

- Oral Presentation: Lewis Sheiner Student Session
- Oral Presentation: Clinical applications
- Oral Presentation: Target mediated drug disposition
- Oral Presentation: Methodology - New tools (algorithms, estimation methods, statistical tests)
- Oral Presentation: Methodology - New modelling approaches
- Oral Presentation: Other topics
- Poster: Infection
- Poster: Inflammation
- Poster: CNS
- Poster: Cardiovascular, QT-prolongation
- Poster: Endocrine
- Poster: Oncology
- Poster: Other drugs and diseases
- Poster: Paediatrics
- Poster: Absorption and Physiology-based PK modelling
- Poster: Estimation methods
- Poster: Study design
- Poster: Model evaluation
- Poster: Other topics - Applications
- Poster: Other topics - Methodology
- Software demonstration

A category should be selected when submitting the abstract. For abstract submission click on 'Register/submit abstract', log in if necessary and click the link on the bottom of your personal info page. Submission of abstracts is only possible online through this website. A structured abstract is required (Objectives/ Methods/ Results/ Conclusion/ References) with number of characters (including spaces) not exceeding 2,500 but not less than 1,000 for the abstract itself (i.e. excluding Title/ Authors/ Affiliation and References). Please follow these instructions carefully regarding format and length of the abstracts or download them in either Word/RTF or Adobe/PDF format. Abstracts that do not comply will require re-submission. Upon submission of an abstract, an e-mail will be sent to you with your abstract. This e-mail will also be sent to the committee responsible for peer review in the selected category and abstract-updates may be requested. Abstracts will remain invisible until release of the final program. The deadline for regular abstract submission is 15 MARCH 2011.
Posters
The poster boards will accomodate an A0-size portrait poster (118.9 cm high and 84.1 cm wide). Material for mounting your poster to the boards will be available on-site.
PAGE-Pharsight Student Sponsorship
Students in an MSc or PhD program who submit an abstract for a poster or oral presentation may apply for sponsorship (between 200 and 300 euro, depending on the total number of submissions), by downloading this pdf file, filling it in electronically, printing it and sending it along with a copy of the student ID and a letter from the supervisor to the address on the pdf form. The deadline for requesting sponsorship coincides with the deadline for abstract submission: 15 March 2011. Students who want to qualify for a sponsorship should require hotel accommodation for the meeting and applications are limited to students who have no other funding source (e.g. industrial funds, professional societies). This means that the applicant's trip cannot be fully funded by someone else; sponsorship can only be requested if a substantial amount of personal funds is required to finance the trip to Athens. Only students in an Msc or PhD program at the time of the PAGE meeting can apply for sponsorship.
Deadline for Lewis Sheiner Student Session abstracts: 1 MARCH 2011
Deadline for regular abstracts: 15 MARCH 2011
Deadline for requesting PAGE-Pharsight Student Sponsorship: 15 MARCH 2011
Software Demonstrations
Software companies, Academic Software Application Developers and Contract Research Organisations are welcome to present their products and services during PAGE. Please contact our conference secretariat for further details at pagemeeting2011@afea.gr.
Conference secretariat
For matters related to the PAGE meeting:
info@page-meeting.org
For matters related to payment of registration fees, hotel reservation, tourist information etc:
Julie Valasoglou / Martha Kornarou
AFEA SA
Travel & Congress Services
Lykavittou 39-41, 10672 Athens, Greece
Direct Line: +30 210 3668854, 210 3668852
Central: +30 210 3668800
Fax: +30 210 3643511
E-mail: pagemeeting2011@afea.gr
Web Site: www.afea.gr
Conference location:
Divani Caravel Hotel
2, Vas. Alexandrou Av.
161 21 Athens
www.divanis.com/caravel