Printable version
2005
Pamplona, Spain
Fourteenth meeting, 16-17 June, 2005
The PAGE2005 meeting took place in the Auditorium of the University of Navarra, was hosted by the Faculty of Pharmacy of the University of Navarra and was sponsored by the Global PK/PD and TS Department, Eli Lilly and Company, Ltd.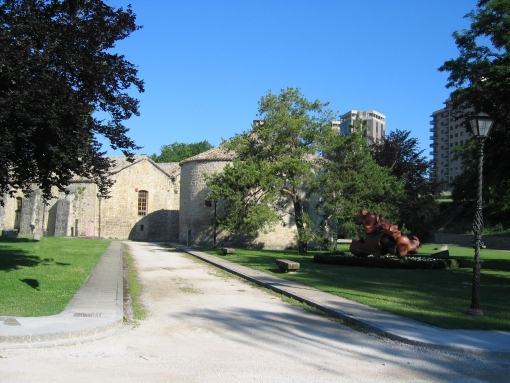 View of the Pamplona citadel. Photo: Brigitte Tranchand
PAGE meetings take place in an informal atmosphere with vivid scientific discussion. Participants are encouraged to attend both conference days and present their work in the form of an oral presentation or poster. Participants are explicitly encouraged to contribute work on clinical applications, and to consider submitting work for the two new sessions that are intended to become part of the PAGE format:
a) THE LEWIS SHEINER STUDENT SESSION
The PAGE organising committee has decided to inaugurate an annual Lewis Sheiner Student Session, both to honour the memory of Lewis Sheiner and to highlight his lifetime passion for student education. Students who wish to be considered for this session should submit an extended abstract (2 pages of typed A4) of their intended presentation for the PAGE meeting. The submitted work must have been performed either as part of an MSc or PhD programme and/or will ultimately form part of a PhD thesis. Each year a rotating committee of three members, representative of the PAGE community, will judge who should receive the honour of presenting in the Lewis Sheiner Student Session. If elected, the student will automatically receive the 300 euro travel grant. A permanent list of students, with links to their presentation, will be maintained on the web site.
If you wish to apply for this session, please submit an extended abstract corresponding to two pages of A4 using the normal procedure (see below) and send an e-mail to the local organisers
(

) indicating that you would like to take part.
b) THE MODEL BUILDING SESSION
This session is aimed at giving insight into and to provide a basis for discussion around model building. Therefore, presentations should be analyses of real data sets with a focus on one or more model building issues. The intention is to generate a discussion forum to deal with real life issues that may not have a solution yet. Participants are encouraged to consider sharing any relevant issues within the PAGE community. If you want to participate in this session, please send an e-mail to the local organisers (

) with a description of your model building problem.
REGISTRATION PROCEDURE
Registration this year is only required at the page web-site where you can both register for the meeting and make your hotel reservations. Your personal details (address etc) are still available if you have registered at the PAGE web site before. Please keep our database clean and current, and update your existing profile! If you've forgotten your password, it can be sent to you from the web site by e-mail. If you've forgotten your password AND changed your e-mail address then please contact Rik Schoemaker(

). If you update your information, an automatic e-mail will be sent to you; if you do not receive this mail then please re-check your personal info (especially your e-mail address)! If you have never visited this web-site before, you need to fill in your personal details first and then log in again to register for the meeting.

When you register (by clicking on 'Register/submit abstract' under Pamplona, Spain on your left and filling in your preferences), an e-mail will be sent to you containing your information and your registration and hotel details. You should print out this e-mail, fill in your credit card information and fax (+34 948 24 82 27) this to the local organisers in order to pay the registration fee. Your registration is not final until we receive this fax. You can also pay using a deposit slip for a bank transfer, but you still need to send a filled in printout of the e-mail. All additional bank fees should be handled by the participant.

Registration fees are 180 euro for participants from industry, 120 euro for academics and non-profit participants and 20 euro for students. Fees include conference materials, coffee, tea and lunch on both days, and admission to the social event. Accompanying persons can attend the social event for a fee of 80 euro.
ABSTRACTS
The individual abstracts can be viewed using the links on the left, or the complete set of abstracts can be dowloaded in pdf format by clicking
oral abstracts or poster abstracts.
ABSTRACT SUBMISSION
Submission of abstracts is only possible online through this web site. Please follow these instructions carefully or download them in either Word/RTF or Adobe/PDFformat. Abstracts that do not comply may require re-submission. For submitting an abstract click on 'Register/submit abstract', log in if necessary and click the link on the bottom of your personal info page.
The size of the poster boards is 95cm wide and 120cm high accomodating an A0-size portrait poster.
DEADLINE for ABSTRACTS: 31 MARCH 2005
DEADLINE for PAYMENT: 24 APRIL 2005
PHARSIGHT SCHOLARSHIP
The first 10 students who submit an abstract for a poster or oral presentation may apply for a 300 euro sponsorship made possible by a kind donation from Pharsight, by sending an e-mail (after submitting an abstract) to the local organisers (

). Students that want to qualify for a scholarship should require hotel accommodation for the meeting and should bring proof of their academic status (a letter from their supervisor), to be presented at registration for the meeting. The student should not already be sponsored by industry in order to qualify for a PAGE sponsorship.
SOFTWARE DEMONSTRATION
Software companies, Academic Software Application Developers and Contract Research Organisations are welcome to present their products and services during PAGE. Please contact our secretariat for further details (see below).
LOCAL ORGANISERS
Congresos Navarra
Larrabide 15 bajo
31005 Pamplona
Spain
Telephone: +34 948 27 40 11 / 948 27 40 50
Fax: +34 948 24 82 27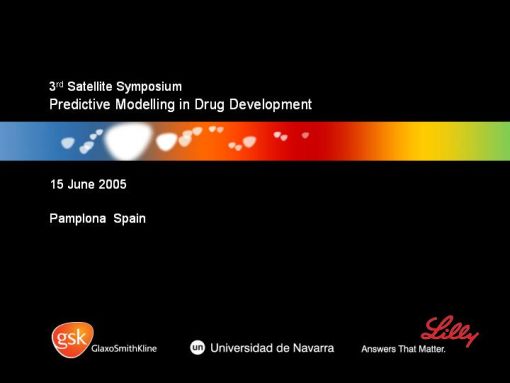 PRE-PAGE MEETING:
3rd Satellite Symposium on Predictive Modelling in Drug Development
Wednesday June 15- Pamplona Spain
Sponsored by Eli Lilly & GlaxoSmithKline.
Registered PAGE participants can attend the meeting free of charge. Participation by invitation only. Please send an e-mail to

with 'PRE-PAGE SATELLITE' in the header if you wish to attend. The number of participants is limited to 125.
LOCATION
PAGE 2005 Venue: Auditorium of the University of Navarra located within the Library building of the Life Science Campus.
Final Programme
13:00 – 14:00 Lunch Venue hall
14:00 – 14:45 Keynote Lecture Quantitative pharmacology: Utilizing PK/PD in drug discovery and development
Dr. Sandy Allerheiligen, Director, Drug Disposition and Global PK/PD & Trial Simulation Department, Eli Lilly (USA)
SESSION I. Modelling from Lead Optimisation to Candidate Selection
14:45 – 15:10 Selecting candidates based on preclinical potency: assumptions and misconceptions
Dr. Jenny Chien, Global PK/PD & Trial Simulation Department, Eli Lilly (USA)
15:10 –15:35 Modelling receptor pharmacology in pre-clinical development
Dr. Bart Laurijssens, Clinical Pharmacokinetics Modelling & Simulation, CPDM, GlaxoSmithKline (UK)
SESSION II. Modelling from Candidate Selection to Proof of Concept
15:35 – 16:00 Levering biomarker relationships in phase I and II clinical development: An example for Prasugel (CS-747)
Mendel Jansen, Global PK/PD & Trial Simulation Department, Eli Lilly (Erlwood, UK)
16:00 – 16:25 Cytokine trafficking model for dose range prediction
Dr. Tom S. Forgue, Global PK/PD & Trial Simulation Department, Eli Lilly (USA)
16:25 – 16:45 Coffee break
SESSION III. Modelling from Proof of Concept to Product Line Extension
16:45 – 17:10 Disease modelling as a tool for optimising product line extension. An example in migraine therapy
Dr Oscar Della Pasqua, Modelling & Simulation Research Group, CPDM, GlaxoSmithKline (UK)
17:10 – 17:35 A semi-empirical pharmacokinetic model for the prediction of drug concentration in the presence of multiple inhibitors.
Mike Heathman, Global PK/PD & Trial Simulation Department, Eli Lilly (USA)
17:40 – 18:30 Closing Lecture
Nonlinear Dynamics: concepts and applications to biopharmaceutics, pharmacokinetics and pharmacodynamics
Prof. Panos Macheras, University of Athens, Greece
18:30 – 20:00 Wellcome Cocktail at the Venue