Printable version
2008
Marseille, France
Seventeenth meeting, 18-20 June, 2008
The PAGE2008 meeting took place at the Medical School of Marseille.

View of Marseille (photo: Brigitte Tranchand)
Main sponsors: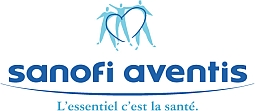 Generously supported by:


All oral abstracts can be downloaded as a single document (rtf or pdf) and all poster abstracts can be downloaded as a single document (rtf or pdf).
PAGE meetings take place in an informal atmosphere with vivid scientific discussion. The meeting will start on Wednesday morning June 18 and will end at noon on Friday June 20. Three events will be held before the PAGE meeting:
Please see below for registration for the first two events.
Participants are encouraged to attend all conference days and present their work in the form of an oral presentation or poster. Participants are explicitly encouraged to contribute work on clinical applications and modelling in oncology. The Lewis Sheiner Student Session, the Stuart Beal Methodology Session, the "Stuck in Modelling" Session and the two Tutorials will be important parts of the program.
a) The Lewis Sheiner Student Session
The annual Lewis Sheiner Student Session was inaugurated, both to honour the memory of Lewis Sheiner and to highlight his lifetime passion for student education. Students who wish to be considered for this session should submit an extended abstract (equivalent to 2 pages of typed A4) of their intended presentation for the PAGE meeting. The submitted work must have been performed either as part of an MSc or PhD programme and/or will ultimately form part of a PhD thesis. Each year a rotating committee of three members, representative of the PAGE community, will judge who should receive the honour of presenting in the Lewis Sheiner Student Session. If elected, the student will automatically receive a PAGE-sponsored 300 euro travel grant. A permanent list of students, with links to their presentation, will be maintained on the web site.
b) The Stuart Beal Methodology Session
As a tribute to Stuart Beal, the organising committee has instituted the Stuart Beal Methodology Session. The organising committee will choose presenters from the abstracts submitted under the category "Oral presentation: Methodology".This year's session will focus on analysis of categorical data.
c) Stuck in Modelling
The session originally named "the model building session" has been renamed to "Stuck in modelling" to make the intention of the session clearer to potential presenters. You are encouraged to present a modelling problem in progress, in order to give the audience a view of how modelling actually proceeds in real life, and to obtain valuable advice from both the panel of moderators and the audience in approaching (and perhaps solving) your problem. In order to present your problem, you are expected to submit an abstract clearly indicating:
a. what it is you are modelling
b. where you got stuck
c. what you tried that did not work
This way the organising committee can assess if the presentation fits the session, and both the panel and the audience can prepare for the talks in terms of suggestions on how to solve the problem. The main part of the oral presentation should focus on c) with only enough of a) and b) to make it clear what the context is. We clearly do not want you to present an answer to your problem. Slides for the presentation should be made available to the panel and the audience by posting them on the web-page at least a week before the meeting to allow proper preparation. If you are not selected for the session you will be encouraged to submit your abstract for a regular oral or poster presentation.
d) The Tutorials
A tutorial will be presented by Meindert Danhof and Bart Ploeger on models incorporating receptor binding; theory and practice.
A second tutorial will be presented by Nick Holford and Mats Karlsson on predictive checks.
e) The Modelling in Oncology Session
A special session will be organised on modelling in oncology with invited speakers Dr. Joga Gobburu (FDA) and Dr. Alwin Huitema.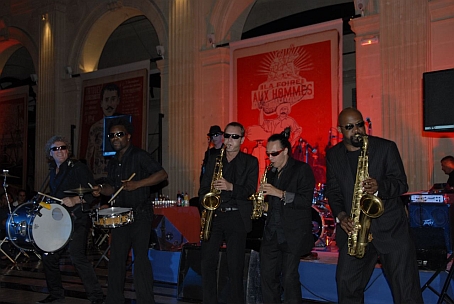 Accoules Sax: the Band at the Social Event (photo: Audrey Boulamery-Velly)
Registration Procedure
Registration is only possible starting January 15, 2008 at the PAGE website. Your personal details (address etc) are still available if you have registered at the PAGE website before. Please keep our database up to date by editing your existing profile if required! If you've forgotten your password, a reminder can be requested automatically from the website by e-mail. If you've forgotten your password and changed your e-mail address then please contact Rik Schoemaker (

). If you update your information, an automatic e-mail will be sent to you; if you do not receive this mail then please re-check your e-mail address. If you have never visited this website before, you need to fill in your personal details first and then log in again to register for the meeting.
Hotel reservation and payment of fees using a secure server is only possible at the local organisers web-site Atout Organisation Science. You will receive a special code to log into their web-site (after February 15). This allows us to synchronise our two servers and minimises the need for you to re-enter your initial details.
Registration fees
Registration fees are 450 euros for participants from industry, 200 euros for academics and non-profit participants and 50 euros for students. Fees include coffee, tea and lunch on all days except Friday June 20, and admission to the social event. Accompanying persons can attend the social event for a fee of 100 euro.
Registration for satellite meetings
Registrations for the MONOLIX and NONMEM VI workshops will start on February 15th 2008 and should be done at the local organiser's web page, but only if you are not on the waiting list for the PAGE meeting. Payment of PAGE registration fees, hotel reservation and registration for the workshops will have to be performed simultaneously as a single operation.
For registration for Adrian Dunne's "Binary and Categorical Data Modelling, Analysis and Simulation using NONMEM®" course, please visit www.tacatraining.com.
Social events
The social event will take place on Thursday evening, June 19.
Registration
To register, click on 'Register/submit abstract' under Marseille, France on the left hand-side menu. An e-mail will be sent to you confirming the submitted details. You will receive a special code to log into the Atout Organisation Science web-site (after February 15) so you do not need to re-enter your initial details, and allowing us to keep track of the two registration lists. Your registration is not final until you have completed the payment at the Atout Organisation Science website. A waiting list is available if registration exceeds current meeting capacity. You will be automatically put on the waiting list if the organisers have not received payment by April 15, 2008. A registration is not transferrable to a colleague or friend.
Hotel reservation
A sufficiently large number of hotel rooms has been pre-booked by Atout Organisation Science , the local organiser. A full list of hotels with a map can be found here or can be downloaded as PDF or Word document. Please, note that if you need accommodation for the conference, you have to book a room simultaneously with your (second) registration to the conference at Atout Organisation Science. For hotel reservation a down-payment of one night is required. The online form does not enable you to come back to book accommodation later.
All hotels are in the attractive part of Marseille, but not next to the Medical School. The Medical School is easily reached by Metro but if you want a (less expensive) hotel close by, you will need to make your own arrangements (e.g. Etap hotel Marseille Timone, Ibis Marseille Timone).
Payment
Payment is by credit card or check, IN EUROS only, (payable in France) and by bank transfer (Please, note that all bank charges should be your responsibility).
You will find all details about payment methods on the online registration form.
Cancellation conditions
For registration and conference dinner: Cancellations must be sent in writing to Atout Organisation Science by e-mail or by fax (+33 (0)4 96 15 12 51). If the cancellation is received before May 20, 2008 (inclusive) the registration fee minus an administration charge of 50 Euro will be refunded after the conference. If cancellation is received after May 20, 2008 or if the participant fails to attend, the entire registration fee has to be paid.
For hotel reservation: All cancellations or changes must be received in writing by Atout Organisation Science on or before April 15, 2008. Please contact AOS by e-mail (page2008@atout-org.com) or by fax (+33 (0)4 96 15 12 51) to make any changes to your hotel booking. For cancellations received on or before April 15, 2008 only the 15 euros booking fee will be retained. If you cancel your reservation after April 15, 2008, no refund will be possible.
Refunding will be executed after the meeting. Amounts less than 50 euros will not be refunded.
Abstract Submission
In order to facilitate review of abstracts and to aid in a more structured presentation of posters, a number of categories has been created:

- Oral Presentation: Lewis Sheiner Student Session
- Oral Presentation: Applications
- Oral Presentation: Methodology
- Oral Presentation: Stuck in Modelling
- Poster: Applications- Anti-infectives
- Poster: Applications- Biologicals/vaccines
- Poster: Applications- Coagulation
- Poster: Applications- CNS
- Poster: Applications- CVS
- Poster: Applications- Endocrine
- Poster: Applications- Oncology
- Poster: Applications- Other topics
- Poster: Methodology- Algorithms
- Poster: Methodology- Design
- Poster: Methodology- Model evaluation
- Poster: Methodology- PBPK
- Poster: Methodology- Other topics
- Software demonstration

A category should be selected when submitting the abstract. For abstract submission click on 'Register/submit abstract', log in if necessary and click the link on the bottom of your personal info page. Submission of abstracts is only possible online through this website. Please follow these instructions carefully or download them in either Word/RTF or Adobe/PDF format. Abstracts that do not comply will require re-submission. Upon submission of an abstract, an e-mail will be sent to you with your abstract. This e-mail will also be sent to the committee responsible for peer review in the selected category and abstract-updates may be requested. Abstracts will remain invisible until release of the final program.
Posters
The size of the poster boards is 90 cm wide and 120 cm high accommodating an A0-size portrait poster (84 cm x 119 cm). Posters will be mounted with double sided tape (provided by the conference organisation).
Pharsight Student Sponsorship
Students who submit an abstract for a poster or oral presentation may apply for sponsorship (of up to 300 euro, depending on the total number of submissions) made possible by a kind donation from Pharsight, by sending an e-mail (after submitting an abstract) to Rik Schoemaker (

). The deadline for requesting sponsorship coincides with the deadline for abstract submission: 31 March 2008. Students that want to qualify for a sponsorship should require hotel accommodation for the meeting and should bring proof of their academic status (a letter from their supervisor), to be presented at registration for the meeting. Applications for this sponsorship should be limited to students who have no other funding source (e.g. industrial funds, professional societies).
Deadline for Lewis Sheiner Student Session abstracts: MARCH 15 2008
Deadline for regular abstracts: MARCH 31 2008
Deadline for requesting Pharsight Student Sponsorship: MARCH 31 2008
Deadline for payment of registration fees: APRIL 15 2008
Software Demonstrations
Software companies, Academic Software Application Developers and Contract Research Organisations are welcome to present their products and services during PAGE. Please contact our conference secretariat for further details

.
Conference secretariat
For matters related to the PAGE meeting:
Olivier Petricoul


For payment of registration fees, hotel reservation, tourist information etc:
Stéphanie PAULMIER / Assistant de projet
e-mail: page2008@atout-org.com
Atout Organisation Science
Village d'Entreprises Saint-Henri
Rue Anne Gacon - Bât 24
13016 Marseille - France
Tel: + 33 (0)4 96 15 12 50
Fax: + 33 (0)4 96 15 12 51
Conference location:
Faculté de Médecine
Auditorium "Maurice TOGA"
La Timone
27 Boulevard Jean Moulin
Marseille
Tourism site of Marseille
http://www.marseille-tourisme.com/en/in-marseille/
"Fête de la musique"
Please note that 21st June is the traditional "Fête de la musique" in France (www.fete-de-la-musique.cityvox.com). Those who want to stay during the week end after the meeting will enjoy the big evening party in the streets of Marseille.
Arriving at Marseille by:
Air:
Aéroport Marseille Provence (www.marseille-provence.aeroport.fr)
Taxis to central Marseille typically cost 50-60 euros and are available from the airport. A shuttle bus runs from the airport to Marseille Saint Charles TGV railway station every 20 minutes (from 06h10 to 22h50, and return from 05h30 to 21h30). The fare for a single ticket is approximately 8.50 EUR and the journey takes about 25 minutes.
Train:
The Marseille Saint Charles Train Station will bring you right into the heart of the city and is serviced by regular (www.sncf.com) and TGV (www.tgv.com) trains.
Local transport:
Subway and bus:
Régie des Transports Marseillais, RTM (www.rtm.fr)
The conference location is serviced by subway line 1, stop "La Timone". The journey from Vieux Port (where many hotels are) or Marseille Saint Charles Rail Station to the Faculté de Médecine, by subway, takes about 15 minutes. Bus 83 takes you from the Pharo (where the remaining hotels are) to the Metro Vieux Port every 15 min.
There are two metro lines (click for map) and two tramway lines serving Marseille, and an extensive bus service covering the whole city. Passes and Fares for buses and subway lines:
Single Ticket: 1.70 Euro (including free transfers within a 1-hour period).
Return Ticket: 3.40 Euros (including free transfers within a 1-hour period and return).
1 Day Pass: 4.50 Euros (This pass allows unlimited travel on all buses and subway lines during one day. Valid from the first validation until midnight).
3 Day Pass: 10 Euros (This pass allows unlimited travel on all buses and subway lines during three consecutive days, from the first validation).
«Libertes» Pass: 6 or 12 Euros (This pass allows free transfers within a 1-hour period and travel with up to 4 people at the same time. For each trip your pass will be charged by 1.20 Euro per person).
Direct bus lines for the "Faculté de Médecine": 14, 40, 54, 72, 91.
Car from the Motorway:
• Motorway A7 or A50 - Exit Vieux Port, follow Tunnel Prado Carénage, La Timone, Faculté de Médecine
• Motorway A55 - Tunnel Prado Carénage, follow directions to La Timone
(Tunnel Prado Carénage: 2.50 euros)
Taxis in Marseille:
04 42 02 20 20 / 04 42 03 60 03.
Passport and visa
Every person entering France should be in possession of a valid passport and/or identification card. Some countries require a visa. Please contact the nearest French Embassy or Consulate to your home for further information. The conference organizers will send out an official letter of invitation upon request to help overcome administrative difficulties in certain countries. This invitation will not imply any obligation from the Organization to provide any kind of financial contribution. Requests should be made by fax or e-mail and should include the participant's complete mailing address, fax number, e-mail address and/or professional or student status proof.
For more information, please click on this link: www.diplomatie.gouv.fr/venir/visas/index.html
Insurance
The conference organizers cannot accept liability for personal injuries sustained, or for loss of or damage to property belonging to congress participants, either during or as a result of the conference. Please, check the validity of your own insurance.
Language and currency
The official language spoken in France is French. According to the Monetary Union, the official currency is the EURO (€). Other currencies will not be accepted during the conference.
Telephone
For international calls to France, dial the international code followed by 33 and the correspondent's number without the 0. For international calls from France, dial 00 followed by your correspondent's international code and number.
Electricity
Electricity used in France is 220 Volts; frequency is 50 Hz and the plugs have two male contact points. Plan to bring an adaptor for your electrical appliances or electronic equipment using different voltage.
Climate and clothing
The weather in Marseille in June is usually warm and sunny, but temperatures can fall with Mistral wind. Average number of days of sunshine: 300 days per year. The daily temperatures are ranging from 20°C to 25°C. Night temperatures are usually milder between 15°C to 20°C.