Printable version
2006
Brugge/Bruges, Belgium
Fifteenth meeting, 14-16 June, 2006
Dedicated to the memory of Stuart L. Beal, 1941-2006.
The PAGE2006 meeting took place in the "Old Sint Jan Convent" and was co-sponsored by UCB and Johnson&Johnson.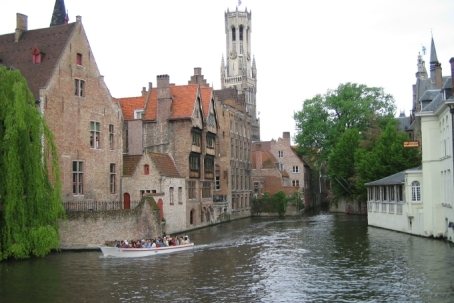 View of Bruges. Photograph: Achiel van Peer
PAGE meetings take place in an informal atmosphere with vivid scientific discussion. Because of the increase in submitted abstracts seen over the years, the organising committee has decided to extend the PAGE meeting with an extra afternoon. The meeting will therefore start on Wednesday June 14 at noon and will end on Friday afternoon (around 5PM).
Participants are encouraged to attend all conference days and present their work in the form of an oral presentation or poster. Participants are explicitly encouraged to contribute with work on clinical applications. Given the great success of both the Lewis Sheiner Student Session and the Model Building Session last year, these will be an important part of the PAGE2006 program as well:
a) The Lewis Sheiner Student Session
The annual Lewis Sheiner Student Session has been inaugurated, both to honour the memory of Lewis Sheiner and to highlight his lifetime passion for student education. Students who wish to be considered for this session should submit an extended abstract (equivalent to 2 pages of typed A4) of their intended presentation for the PAGE meeting. The submitted work must have been performed either as part of an MSc or PhD programme and/or will ultimately form part of a PhD thesis. Each year a rotating committee of three members, representative of the PAGE community, will judge who should receive the honour of presenting in the Lewis Sheiner Student Session. If elected, the student will automatically receive a PAGE-sponsored 300 euro travel grant. A permanent list of students, with links to their presentation, will be maintained on the web site.
b) The Model Building Session
This session is aimed at giving insight into and providing a basis for discussion around model building. Therefore, presentations should be analyses of real data sets with a focus on one or more model building issues. The intention is to generate a discussion forum to deal with real life issues that may not have a solution yet. Participants are encouraged to consider sharing any relevant issues within the PAGE community. If you want to participate in this session, submit an abstract with a description of your model building problem using the normal procedure and choose "Oral presentation: Model Building Session" as your abstract type.
c) The Stuart Beal Methodology Session
As a tribute to Stuart Beal, the organising committee would like to institute a permanent Stuart Beal Methodology Session (open for submitted abstracts), and both Alison Boeckman and Tom Ludden have been invited to commemorate Stuart's immense contribution to the field.
d) The Tutorial
This year's tutorial will be presented by Prof. Geert Verbeke (Catholic University of Leuven, Belgium) on categorical data analysis.
e) The Modelling Absorption Session
A special session will be organised on modelling absorption with contributions from academia and software developers in the field:
Mats Karlsson - Uppsala University
Amin Rostami-Hodjegan - University of Sheffield and SimCyp
Walter Woltosz - GastroPlus / Simulations Plus
Stefan Willmann - PKSim
Registration Procedure
Registration is only possible at the PAGE web-site where you can both register for the meeting and make your hotel reservations. Your personal details (address etc) are still available if you have registered at the PAGE web site before. Please keep our database clean and current, and update your existing profile! If you've forgotten your password, it can be sent to you from the web site by e-mail. If you've forgotten your password and changed your e-mail address then please contact Rik Schoemaker(

). If you update your information, an automatic e-mail will be sent to you; if you do not receive this mail then please re-check your personal info (especially your e-mail address)! If you have never visited this web-site before, you need to fill in your personal details first and then log in again to register for the meeting.
Registration fees
Registration fees are 225 euro for participants from industry, 150 euro for academics and non-profit participants and 20 euro for students. Fees include conference materials, coffee, tea and lunch on all days, and admission to the social event. Accompanying persons can attend the social event for a fee of 80 euro.
Hotel reservation
A sufficiently large number of hotel rooms has been pre-booked by Hansa Incoming, the local organiser. The table below indicates the choices, and a description is obtained by clicking on the pdf-logo.
Hotel

13/06

14/06

15/06

16/06

17/06

SGL

DBL

SGL

DBL

SGL

DBL

SGL

DBL

SGL

DBL

'T Koffieboontje***

NA

NA

NA

NA

NA

NA

NA

NA

NA

NA

'T Putje***

NA

NA

NA

NA

NA

NA

NA

NA

NA

NA

Novotel Centre***+

NA

NA

NA

NA

NA

NA

NA

NA

NA

NA

Martin's***luxe

130

150

130

150

130

150

130

150

130

150

Academie****

NA

NA

NA

NA

NA

NA

NA

NA

NA

NA

Scandic ****+

115

120

115

120

115

120

115

120

115

120

Aragon****+

145

165

145

165

145

165

145

165

145

165

Montanus****luxe

169

188

169

188

169

188

169

188

169

188

Crowne Plaza****luxe

200

225

200

225

200

225

200

225

200

225

Oud Huis Amsterdam****luxe

180

195

180

195

180

195

180

195

180

195
NA: no longer available
Remarks
All rates mentioned above are per room per night, breakfast buffet included
All rates mentioned above are in EURO, taxes included
Abbreviations: SGL = single room, DBL = double room
Deadline for reservations =

APRIL 19, 2006

; all other reservations will be on request
All hotels, with exception of hotel Scandic are situated in the historical centre on walking distance of the congress Centre Oud Sint Jan.
For clients staying at hotel Scandic, a daily shuttle service hotel- Oud St Jan - hotel is included in the rate (departure hour hotel: 08h30; departure conference centre: 17h15)
CONDITIONS
Payment
Payment is by credit card (others: contact Hansa Incoming)
A deposit of 30% of the total amount of the hotel reservation will be charged at the moment of reservation (at least 6 weeks prior to arrival)
The outstanding amount of 70% will be charged 30 days prior to arrival (= MAY 14, 2006)
Reservations made less than 6 weeks prior to arrival will be charged at the moment of reservation for 100%.
Cancellation policy
Cancellation until 6 weeks prior to arrival (MAY 3, 2006) = free of charge
Cancellation between 6 weeks and 30 days prior to arrival = 30% of the total amount
Cancellation between 30 days and 14 day prior to arrival = 60% of the total amount
Cancellation less than 14 days prior to arrival or no show = 100%
Modification policy
Your reservation can be changed free of charge until 30 days prior to arrival (= MAY 14, 2006)
When you register (by clicking on 'Register/submit abstract' under Brugge/Bruges, Belgium on your left and filling in your preferences), an e-mail will be sent to you containing your information and your registration and hotel details. You should print out this e-mail, fill in your preferences and credit card information and fax (+32 50 39 55 83) or surface mail this to the local organisers (Hansa Incoming) in order to pay the registration fee. Your registration is not final until we receive this fax, and people on the waiting list may be given preference if we do not receive payment by April 19, 2006.
Abstract Submission
In order to facilitate review of abstracts and to aid in a more structured presentation of posters, a number of categories has been created:

- Oral Presentation: Lewis Sheiner Student Session
- Oral Presentation: Model Building Session
- Oral Presentation: Applications
- Oral Presentation: Methodology
- Poster: Applications- Anti-infectives
- Poster: Applications- Biologicals/vaccines
- Poster: Applications- Coagulation
- Poster: Applications- CNS
- Poster: Applications- CVS
- Poster: Applications- Endocrine
- Poster: Applications- Oncology
- Poster: Applications- Other topics
- Poster: Methodology- Algorithms
- Poster: Methodology- Design
- Poster: Methodology- Model evaluation
- Poster: Methodology- PBPK
- Poster: Methodology- Other topics
- Software demonstration

The category should be selected when submitting the abstract. For abstract submission click on 'Register/submit abstract', log in if necessary and click the link on the bottom of your personal info page. Submission of abstracts is only possible online through this web site. Please follow these instructions carefully or download them in either Word/RTF or Adobe/PDF format. Abstracts that do not comply will require re-submission. The moment the abstract is submitted, it is considered a publication in the official online journal PAGE. Abstracts of the Annual Meeting of the Population Approach Group in Europe. ISSN 1871-6032., is formally and uniformly referenced, and is subject to peer review. The size of the poster boards is 90cm wide and 120cm high accomodating an A0-size portrait poster. Please note: because of the large number of submitted abstracts, abstract submission deadlines will be strictly adhered to.
Deadline for Lewis Sheiner Student Session abstracts: 15 MARCH 2006
Deadline for regular abstracts: 31 MARCH 2006
Deadline for payment of registration fees: APRIL 19 2006
Pharsight Student Sponsorship
Students who submit an abstract for a poster or oral presentation may apply for sponsorship (of up to 300 euro, depending on the total number of submissions) made possible by a kind donation from Pharsight, by sending an e-mail (after submitting an abstract) to the conference secretariat (

). Students that want to qualify for a sponsorship should require hotel accommodation for the meeting and should bring proof of their academic status (a letter from their supervisor), to be presented at registration for the meeting. The student should not already be sponsored by industry in order to qualify for a PAGE sponsorship.
Software Demonstrations
Software companies, Academic Software Application Developers and Contract Research Organisations are welcome to present their products and services during PAGE. Please contact our conference secretariat for further details (

).
Conference secretariat
For matters related to the PAGE meeting:
Veronique Claessens


For payment of registration fees, hotel reservation, tourist information etc:
Hansa Incoming
Laconistraat 8 - 8000 BRUGES - Belgium
Tel. 0032 50 39 56 94
Fax 0032 50 39 55 83
E mail: karolien@escape-hansa.be
Bruges/Brugge
Bruges (or Brugge in Flemish), also called « the Venice of the North », is without any doubt Belgium's largest tourist attraction. This city is situated in the western part of Belgium and only a short distance away from the Belgian Coast. The capital of Belgium, Brussels, is only 100 km away.
The many canals that make their way through romantic Bruges and the pedestrian zones along historic streets and squares offer you complete freedom. Upon visiting Bruges, you will immediately notice that this city has always carefully cherished its architectural and artistic treasures from the past. What makes Bruges so typical though, is the way it deals with this past today. The people of Bruges would like to invite you to join them and to enjoy it as much as they do. Do not miss the opportunity to enjoy and learn more about this city (http://www.brugge.be).
How to reach Bruges:
By car
Bruges(Brugge) is easily reached by taking the Highway E40 Brussel-Ostende, then by following the E403 Brugge/Bruges.

By plane
Belgium's international airport Zaventem Airport (BRU) is situated approximately 120 km east of the city of Bruges. There is a train service to and from the airport every 30 minutes approx. from 6 a.m. to 10 pm. There is a railway train terminal at Zaventem Airport. Check the timetable for the Airport City Express on the Belgian Railways (SNCB/NMBS) website, entering Zaventem Airport as the departure or destination station in the online form.

By train
The railway station is Brugge/Bruges, which is situated at a 10 minutes' walk from the conference centre. There are direct trains and InterCity trains from all the main railway stations in Belgium throughout the day.
Train Schedule: Belgian Railways (SNCB/NMBS)

For additional information (i.e. alternative airports): http://www.brugesinfo.com/brugge-belgium-travel.php
Conference Location
'Oud Sint-Jan'
Mariastraat 38, B-8000 Brugge
By car:
The site of Ancient Saint-John's is located in the historical centre of Bruges. The centre is easily accessible via the E40 Brussels - Ostend. You take exit 8 and drive until the second traffic lights where you turn right. Then you follow the signs to the railway station of Bruges (passing by two roundabouts). Drive under the railway bridge.
When reaching the forefront of the station you follow the signs of "Oud Sint-Jan", to the left. Via Oostmeers and Zonnekemeers you will arrive at our centre.
On foot:
The site of Ancient Saint-John's (Oud Sint-Jan) is only a 5 minutes' walk away from the railway station. When you leave the station (direction Bruges) you cross the station square. Then you follow the signs via Oostmeers and Zonnekemeers.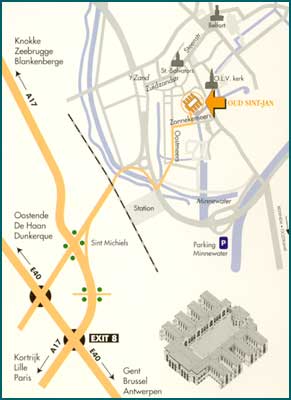 Overview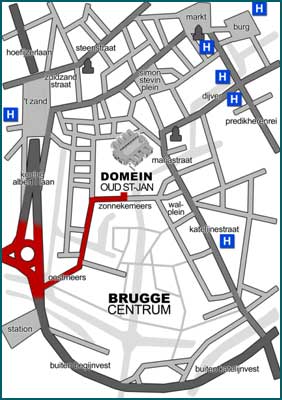 Detail