Printable version
2002
Paris, France
Eleventh Meeting, 6 - 7 June, 2002
The PAGE 2002 meeting was held at La Maison de la Chimie and was hosted and sponsored by Servier (IRIS)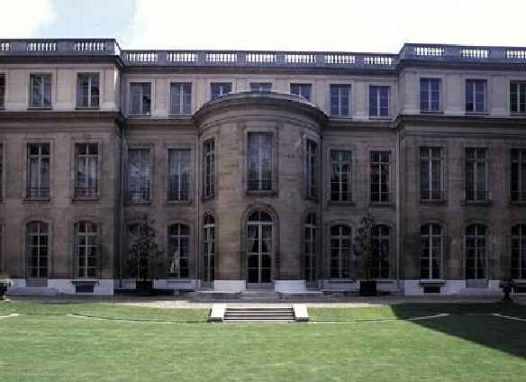 The meeting has an informal atmosphere and participants are encouraged to present their work in the form of an oral presentation or a poster. The PAGE meeting will be two whole days.
The program for the meeting is now available online here and a printable version of the program and abstracts (in RTF format) can be downloaded here.
Preceding the PAGE meeting a small workshop on bayesian methods in population analysis will be held. It is unfortunately fully booked but participants can find the program and additional information here.
The registration fee for the PAGE meeting includes coffee/tea breaks, lunch on Thursday and Friday and the social event on Thursday evening. Fees are 125 euro for academics and 185 euro for participants from industry. A restricted number of places (30) is reserved for students with proof of their academic status for the reduced fee of 25 euro. Cost for hotels is not included.
Payment of fees is preferably by a cheque drawn on a French bank which you can send to:
Silvy Laporte
Unite Pharmacologie Clinique
CHU Saint-Etienne Bellevue, pavillon 5
F-42055 Saint-Etienne
FRANCE

Otherwise, the fee may be paid through a bank transfer. No credit cards can be accepted. Banks tend to charge both for sending and for receiving money so please indicate to your bank that you will pay for the bank transfer.

Please transfer your registration fee to:
Name: AP2POP PAGE 2002
Bank: CCF
Address: 52 Avenue de Saxe, 69006 Lyon, France
Identifiant number: FR 76 30056
Account: 0142 540 1020 / 25.
and clearly STATE YOUR NAME!

If you are from the US, you may also pay in cash (euros only) on the day of the meeting because of excessive cost of wiring money to Europe.
The first 10 students presenting either a poster or an oral presentation may apply for a 300 euro sponsorship, kindly made available by Pharsight, Inc., by sending an e-mail (after submitting an abstract) to

.
FINAL DEADLINE for REGISTRATION and ABSTRACTS: 31 MARCH 2002
For the first time in our history, registration and submission of abstracts was only possible at this web-site. Registration is no longer possible however, because both the registration list and the waiting list are completely filled.
MEETING SECRETARIAT
Carole Choplin
Christian Laveille


HOTEL ACCOMMODATION
Hotel accommodation should be booked by participants at their own expense and as early as possible. For a list of hotels see below.
VENUE
The PAGE 2002 meeting will be held at La Maison de la Chimie, 28 rue Saint-Dominique, 75007 PARIS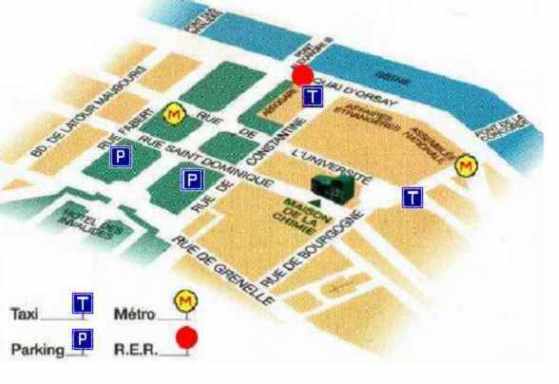 3-STAR-HOTELS
HOTEL BOURGOGNE ET MONTANA 3 rue de Bourgogne, 75007 PARIS; Metro Station : Invalides
Tel. : + 33 1.45.51.20.22 Fax : + 33 1.45.56.11.98
Rates : Single room : From 155 to 180 Euros (breakfast included); Double room : From 165 to 210 Euros (breakfast included)
HOTEL BELLECHASSE 8 rue de Bellechasse, 75007 PARIS; Metro Station : Solférino
Tel. : + 33 1.45.50.22.31; Fax : + 33 1.45.51.52.36
Rates : Single room : 164 Euros; Double room : 174 Euros; Breakfast : 12.50 Euros
HOTEL DE VARENNE 44 rue de Bourgogne, 75007 PARIS; Metro Station : Invalides
Tel. : + 33 1.45.51.45.55; Fax : + 33 1.45.51.86.63
Rates : Single or Double room : From 105 to 124 Euros; Breakfast : 9 Euros
EIFFEL PARK HOTEL 17 bis rue d'Amélie, 75007 PARIS; Metro Station : Invalides
Tel. : + 33 1.45.55.10.01; Fax : + 33 1.47.05.28.68
Rates : Single room : 121.50 Euros; Double room : 128.50 Euros; Breakfast : 9 Euros
HOTEL MERCURE PARIS TOUR EIFFEL 64 boulevard de Grenelle 75015 PARIS; Metro Station : Dupleix
Tel. : + 33 1.45.78.90.90; Fax : + 33 1.45.78.95.55
Rates : Single or Double room : Standard 200 Euros; Superior : 230 Euros; Breakfast : 15 Euros
2-STAR-HOTELS
HOTEL SAINT-DOMINIQUE 62 rue Saint-Dominique 75007 PARIS; Metro Station : Invalides
Tel. : + 33 1.47.05.51.44; Fax : + 33 1.47.05.81.28
Rates : Single room : 99 Euros; Double room : 107 Euros; Breakfast : 7 Euros
HOTEL MUGUET 11 rue Chevert, 75007 PARIS; Metro Station : Latour Maubourg
Tel. : + 33 1.47.05.05.93; Fax : + 33 1.45.50.25.37
Rates : Single room : 83 Euros; Double room : 92 Euros; Breakfast : 7.20 Euros
HOTEL DE L'EMPEREUR 2 rue Chevert, 75007 PARIS; Metro Station : Invalides
Tel. : + 33 1.45.55.88.02; Fax : + 33 1.47.51.88.54
Rates : Single room : 75 Euros; Double room : 80 Euros; Breakfast : 7 Euros
HOTEL DU PALAIS BOURBON 49 rue de Bourgogne, 75007 PARIS; Metro Station : Invalides
Tel. : + 33 1.44.11.30.70; Fax : + 33 1.45.55.20.31
Rates : Single room : 90 Euros (breakfast included); Double room : 110 Euros (breakfast included)