Printable version
2015
Hersonissos, Crete, Greece
Twenty-fourth meeting, 2-5 June, 2015
The PAGE 2015 meeting will be hosted by the University of Athens and will be held at the Creta Maris Convention Center in Hersonissos, Crete.

Our sponsors: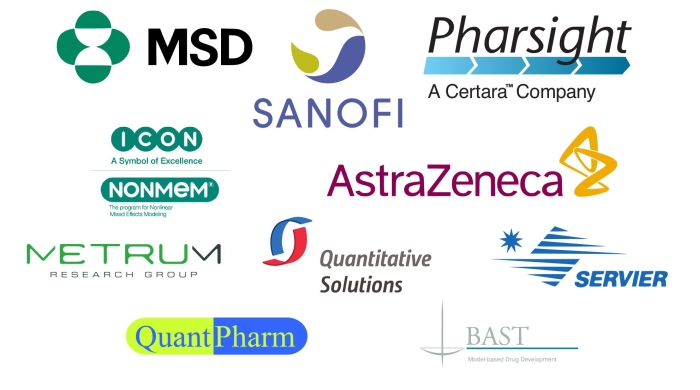 Conference location
PAGE meetings take place in an informal atmosphere with vivid scientific discussion. The PAGE 2015 meeting will be held at the Creta Maris Convention Center in Hersonissos, Crete (Google map link). The meeting will start with a welcome reception on Tuesday evening 2 June. The scientific programme will start on Wednesday morning 3 June and will end at noon on Friday 5 June. Participants are encouraged to attend all conference days and present their work in the form of an oral presentation or poster.
Abstracts and Apps
The program and abstracts can be downloaded as a single document (pdf) and a special small-page A5-sized pdf version for unsupported phones and e-books): note that no printed abstracts are available at the conference so print them at home or use the special Apps that have been developed for iPhone and Android to view all abstracts off-line on your portable device.
Programme items:
The Lewis Sheiner Student Session
The annual Lewis Sheiner Student Session was inaugurated, both to honour the memory of Lewis Sheiner and to highlight his lifetime passion for student education. Students who wish to be considered for this session should submit an extended abstract by the end of 2 March 2015.

The abstract must be structured with the following subheadings: Objectives / Methods / Results / Conclusion / References.
There must be at least 6,000 but not more than 7,000 characters (including spaces) in the abstract itself, i.e. excluding Title / Authors/ Affiliation and References.
The submitted work must have been performed either as part of an MSc or PhD programme and/or will ultimately form part of a PhD thesis.
Each year a rotating committee of three members, representative of the PAGE community, will judge who should receive the honour of presenting in the Lewis Sheiner Student Session.
If elected, the student will automatically receive a 300 euro travel grant. A permanent list of students, with links to their presentation, will be maintained on the web site.

The Stuart Beal Methodology Session
As a tribute to Stuart Beal, the organising committee has instituted the Stuart Beal Methodology Session. The organising committee will choose presenters from the submitted abstracts.
On the 20th anniversary of 'Nonlinear models for repeated measurement data' by Marie Davidian & David Giltinan:

David Giltinan: Why write a book in 1995 on nonlinear mixed effects modeling?
Marie Davidian: Subsequent developments in nonlinear mixed effects modeling.

Michael Betancourt (University of Warwick) and Sebastian Weber (Novartis): Applied Bayesian Inference for Pharmacometrics
Special session on Ebola:

Steve Kern: Conducting clinical trials in challenging environments
France Mentré: Estimating an effective dose for a repurposed drug to treat Ebola: the case of favipiravir
Matthias Machacek: Estimating an effective dose for a new drug to treat Ebola with incomplete information: the case of Zmapp
Scott Berry: Designing adaptive trials for epidemic conditions
Registration
Registration will open on 12 January 2015 at 11:00 in the morning, local Greek time (GMT+2). Registration is only possible at the PAGE website.
If you have previously registered at the PAGE website, your personal details (address etc.) are still available.
If you have not previously registered at the PAGE website, please do so first, then you can log in to enrol for the meeting.
Please keep our database up to date by editing your existing profile if required!
If you've forgotten your password, a reminder can be requested automatically from the website by e-mail.
If you've forgotten your password and changed your e-mail address then please contact Rik Schoemaker (rs@page-meeting.org).
Updates of personal details in the website are confirmed automatically by email. Note that if you do not receive a confirmation, you should check that your e-mail address is correctly entered in the designated field.
Registration fees and payment
Registration fees are:

625 € for participants from industry and commercial enterprises
425 € for academics (including post-doc students), non-profit participants and government employees
125 € for full time students in an MSc or PhD programme at the time of the PAGE meeting (and not otherwise employed) who do not submit and present a poster or oral communication abstract at PAGE 2015
25 € for full time students in an MSc or PhD programme at the time of the PAGE meeting (and not otherwise employed) who do submit and present a poster or oral communication abstract at PAGE 2015

Fees include coffee, tea and lunch on all days, the welcome reception on June 2 and the social event on June 4.
Accompanying persons can attend the welcome reception and the social event for a fee of 125 €
Participant places are limited and allocated on a first come, first serve basis.
Registration fees must be paid at the PAGE website by credit card only (Visa, Maestro, MasterCard and American Express)

within 14 days

after registering at the PAGE website. Visa payments require Verified-by-Visa to be activated, and MasterCard requires SecureCode for your and our own security. Failure to meet this deadline will automatically place your registration on the waiting list.
Students wishing to qualify for the student registration fee need to send a scanned copy of a signed letter of support from their supervisor indicating that they will be full time students in an MSc or PhD programme at the time of the PAGE meeting (and not otherwise employed), and a scan of their current student card to page2015@meetingmakers.co.uk. If this information (and an abstract if applicable) is not available at the time of the abstract deadline (16 March), non-reduced fees will be charged.
Cancellation policy
No refunds will be given once the registration fee has been paid, not even in the extremely unlikely event that the meeting is cancelled due to force majeure. Substitution of delegates will be accepted at any time.
PAGE Student Sponsorship
A PAGE Student Sponsorship to support travel and accommodation expenses (kindly supported by Pharsight and BAST), is available to a very restricted number of students unable to obtain any other financial support. This will be judged on a case-by-case basis by a selection committee. Please see here to download a form with criteria and details on how to apply.
Abstract submission
Deadline for Lewis Sheiner Student Session abstracts: 2 MARCH 2015
Deadline for regular abstracts: 16 MARCH 2015
Please follow these instructions carefully regarding format and length of the abstracts or download them in either Word/RTF or Adobe/PDF format. Abstracts that do not comply with these guidelines will not be accepted.
Each participant is only allowed to submit one poster abstract.
Do not submit separate oral and poster abstracts: if your request for an oral presentation is not granted, you will be contacted to switch your abstract from an oral to a poster category.
Submission of abstracts is only possible online through the PAGE website. Log in, click on 'Register/submit abstract' and click the link on the bottom of your personal info page.
To facilitate the review of abstracts and to help structure the poster sessions, please select an abstract category when you submit your abstract.
The abstract must be structured with the following headings: Objectives / Methods / Results / Conclusion / References.
There is a strict limit of 1,000 to 2,500 characters (including spaces) for the abstract itself (i.e. excluding Title/ Authors/ Affiliation and References).
When you click "Submit" you will immediately receive an email with your abstract attached. This e-mail will also be sent to the committee responsible for peer review in the selected category. Therefore, only click "Submit" when you have finished editing!
Abstracts will remain invisible until release of the final programme (anticipated date: between 5 and 15 April).
Posters
The poster boards will accommodate an A0-size portrait poster (118.9 cm high and 84.1 cm wide/46.8 by 33.1 inches). Material for mounting your poster to the boards will be available on-site. AFEA, the local organisers, offer on-site printing facilities after receiving a pdf of the poster, where the printed poster can be picked up at registration. The associated fee of 45 euro needs to be paid before 22 May. Please contact pagemeeting2015@afea.gr for further details.
Software demonstrations
Software companies, Academic Software Application Developers and Contract Research Organisations are welcome to present their products and services during PAGE. Please contact the conference secretariat for further details at pagemeeting2015@afea.gr.
Satellite meetings
Several events will be held before and after the PAGE meeting (more information to follow). If you are interested in organising such a satellite meeting, contact AFEA directly at pagemeeting2015@afea.gr. Please note that PAGE itself does not get involved in organising satellite workshops or booking venues, etc, and satellite meetings cannot be booked through the PAGE or local organisers web-site.
ACCOMMODATION
AFEA Travel & Congress Services SA, the Local PCO - Booking Agency, has secured a variety of hotels for the PAGE meeting that range from luxurious to more standard accommodations at special rates. An overview of the hotel accommodation options can be obtained here (PDF with hotel description). As June is a high season in Crete, and rooms will be booked on a first-come first serve basis we kindly advise all delegates to make their bookings well in advance.
Room reservation procedure
Should you wish to register online, please use this link (link with online form). Should you wish to register offline, please use this form (RTF form) and follow the instructions therein. For group reservations, please contact the Booking Secretariat directly.
A letter confirming your reservation will be sent to you by e-mail within three (3) working days after having received both the booking form and settlement of payment (including receipt of payment in the case of the offline booking or wire transfer). Should you not receive a confirmation letter, please contact the Professional Congress Organizer – Booking Secretariat:
AFEA S.A. Booking Secretariat
Professional Congress Organizer
39-41 Lykavittou Street
10672 Athens, Greece
Tel: +30 2103668853 (direct line)
Fax: +30 2103643511
pagemeeting2015@afea.gr
Rooms have been pre-booked in all above mentioned hotels until January 31st 2015 and will be confirmed on a first-come first-served basis as they are subject to availability. After this date all bookings will be possible upon request, and according to hotel availability.
Payment and Cancellation policy
Full settlement of the accommodation cost is required, in order for the room reservation to be confirmed.
For any cancellation sent in writing, until 27 February, 2015, 50% cancellation fees will apply
For any cancellation sent in writing, from 28 February until 30 April, 2015, 85% cancellation fees will apply
After this date, full cancellation fees will apply. Any reduction in nights will be treated as a cancellation and no refund will be possible as well.
About Crete
Crete, the 5th biggest Mediterranean island, lies in the southern frontier of Europe and it combines mountains and the sea, the new alongside with the old and ancient with contemporary history. It's a cultural crossroad due to its strategic geographical position and it's one of the most popular Greek tourism destinations.
About Hersonissos
Hersonissos is known as the most organized tourist destination in Crete. It is also known for its high quality hotels, conference infrastructures and the natural beauty of its coasts. Mass tourism, beautiful beaches and the rich nightlife only constitute one side of the coin "Hersonissos". Its other side, which is less acknowledged, includes the pristine mainland, where many historical monuments and landscapes of exceptional beauty await to be discovered.
Getting to Hersonissos
The Municipality of Hersonissos is located east from the city of Heraklion and it is very easily accessible. It is 24 km away from the airport of N. Kazantzakis and 26 km from the port of Heraklion. You can reach the city of Heraklion by airplane or by ferry and then you can drive to Hersonissos, from the old or the new national road. The old national road of Heraklion - Aghios Nikolaos, crosses the port of Hersonissos, while the new national road is nearby. There is a by-pass on the new national road that leads to the port of Hersonissos. Alternatively, you may also use public transportation to arrive at Hersonissos by bus (KTEL Heraklion- Lasithi).
Climate - Weather
The climate of Crete is a factor that greatly contributes to its attractiveness. It is mild Mediterranean – dry and warm, which means high sunshine all year round, very small seasonal changes in temperatures and no extreme weather phenomena. During the summer, the average temperatures fluctuate between about 25 and 30 degrees Celsius, the maximum values reaching even 40 degrees Celsius, while the "meltemi" winds mitigate the warm weather.
Local Time: Time of Greece: GMT +2
Useful telephone numbers & Emergencies
Meeting Venue: (+30) 2897 027000
National Emergency Center: 166
Emergency Hospitals, Pharmacies, Doctors: 14944
Police: 100
Fire Brigade: 199
Emergency Intervention of the Port Authority: 108
Εuropean Emergency Number: 112
Tourist Police: (+30) 28970-21000
Police Station: (+30) 28970, (+30) 22100, 22222
Port Authorities: (+30) 28970-23111
Conference secretariat
For matters related to hotel reservation, tourist information, organising satellite events, software demonstrations etc:
AFEA S.A. Booking Secretariat
Professional Congress Organizer
39-41 Lykavittou Street
10672 Athens, Greece
Tel: +30 2103668853 (direct line)
Fax: +30 2103643511
pagemeeting2015@afea.gr
For matters related to payment of registration fees:
Meeting Makers Ltd
Tel: +44 (0) 141 945 6880
Fax: +44 (0) 141 945 6899
page2015@meetingmakers.co.uk
For matters related to abstracts: