Printable version
1997
Glasgow, Scotland
Sixth Meeting, 23-24 June 1997
The meeting was held at the Western Infirmary Lecture Theatre, University of Glasgow and was Sponsored by the Clinical Pharmacokinetics & Biometrics Group, University of Glasgow, Zeneca Pharma and Medeval.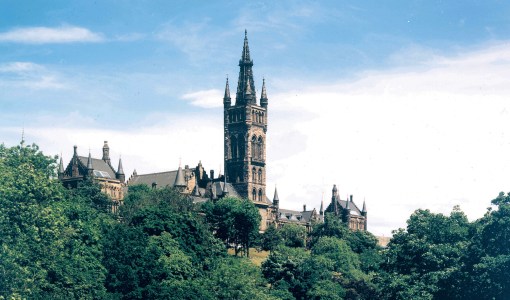 University of Glasgow, Main Building. Photo courtesy of the University of Glasgow
Organising Committee
A H Thomson (Glasgow University, UK)
L S Murray (Glasgow University, UK)
L Aarons (Manchester University, UK)
A C Falcao (Coimbra University, Portugal)
K Fattinger (University Hospital, Zurich, Swizerland)
M Hutchison (Zeneca, Macclesfield, UK)
F Rombout (Bayer, Wuppertal, Germany)
B Tranchand (Centre Léon-Bérard, Lyon, France)
The meeting was held in the New Lecture Theatre, Western Infirmary. Lunch and refreshments were provided during the meeting and a social event was proposed for the evening of 23 June. This comprised a meal followed by a "Ceilidh" with Scottish music and dancing.
MEETING SECRETARIAT
Alison Thomson